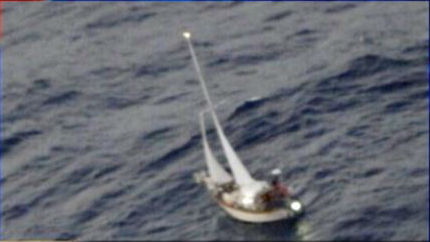 You could blog for years and still not come up with a scenario that combined just the right about of aspirational travel fantasy with the opportunity to judge the bejeebees out of someone else's parenting half as perfect as the Rebel Heart saga.
So what do you think of the young family's decision to sail around the world with a 1-yo and a 3-yo, and have to get rescued by the skydiving Coast Guard because your kid got majorly sick, and your navigation and communication equipment broke, leaving you adrift in the Pacific, and then have the Coast Guard scuttle your boat with all your earthly possessions on it, minus three carry-ons? Tell us in the comments--of some other website!
But not here. Seriously, what's even the point? Are you just about to do this yourself, and you're surfing for tips?
Instead, tell me how to travel to Cabo with the kid and not get salmonella. That seems at least slightly more useful, tipwise.
Sick Baby Rescued From Sailboat on Round-The-World Trip Recovering [myfoxla via everyone and nathan]
Judge the Rebel Heart Sailboat Parents? Or Envy Them? [nyt]