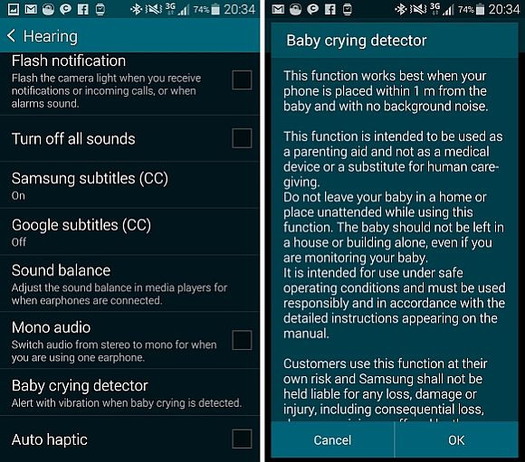 The Samsung Galaxy S5 functions as a "baby crying detector," an amazing "hidden feature," which is techblog for "a feature that's not sexy enough to make it into the ads or the launch announcements or the press materials, but which is in the settings menu of a phone that hasn't shipped yet."
Here's how it works: first, you agree with Samsung's lawyers that you're an irresponsible parent for leaving your kid alone in the first place, and whatever happens to him is not Samsung's fault. Then you leave your phone within a meter of the crib. It will send a vibrate alert to your Galaxy Gear smartwatch when it detects the kid is crying.
But wait, you say, this is April Fool's Day. Surely they're really going to flip it, so you leave the otherwise useless watch as the detector, and keep the new, multi-function phone with you as the receiver?
Nice try, but you're still trapped in your old smartwatch paradigm. The S5 doesn't just detect; it predicts. If you position it close enough to the crib, it will emit a series of loud rings several seconds before the kid wakes up. You can personalize those rings in another settings menu.
Hidden feature turns Galaxy S5 into baby monitor [soyacincau via gizmodo thanks dt reader rolf]