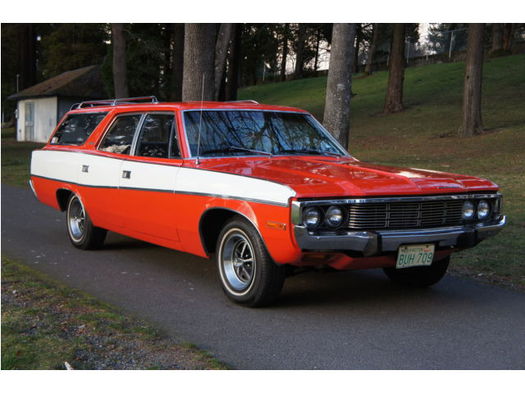 Holy smokes, I had no idea this car existed, but now it's obvious that every station wagon should have a giant, white Starsky & Hutch stripe down the side.
It's a 1973 AMC Matador Wagon, in exceptional condition, with just 71k miles, and the most hilarious description of a pristine interior that I've seen: "No kids were ever in this car from what I can tell and if so they were lifeless. It almost looks showroom."
Of course, it's possible that if the kids were lifeless, they were wrapped in body bags. Or if they weren't, the seats were encased in plastic covers like the station wagon I grew up in, the kind where you'd wake up and find your cheek stuck to the seat.
Either way, this car quickly sold for $9,950, and all that's left for you is to see if your wagon can handle a big white stripe. I'd suggest starting with vinyl before going all in for the paint.

Never Seen One: 1973 AMC Matador Wagon [bringatrailer]
1973 AMC MATADOR STATION WAGON SO RARE! 71k miles 360 SO RUST FREE! SO SOLD! [ebay]