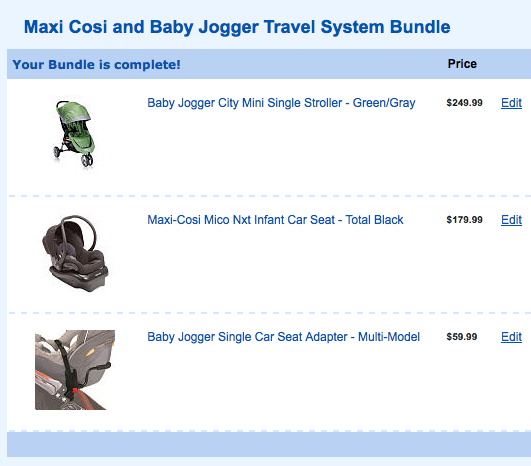 Wow, this is unusual. Or have I just not been paying attention?
Usually, buying a travel system [a stroller + carseat combo] means you get one brand, and little choice or flexibility. If you're buying something beyond top-of-the-line, like the Orbit Baby system, that might be fine. Or you could cobble together your own a la carte system by buying specialized adapters for your stroller/car seat pair. This costs more money. [This is also what we did, btw, putting a Maxi Cosi carrier on our Bugaboo.]
But now I see Babies R Us is offering a "Maxi Cosi and Baby Jogger Travel System Bundle," which pairs a Mico NXT car seat with a City Mini stroller, for $399, which puts it near the top of the travel system market, but is also $90 less than buying the pieces separately ($249 stroller+ $179 car seat +$59 adapter).
As far as I can tell, this is the only cross-brand bundle available, and so far, it's only at BRU. I guess a huge retailer like that is able to make a deal like this happen? Or is it a Baby Jogger joint? Or is it driven by Maxi Cosi, which has a stroller brand, Quinny, in its own corporate family, that doesn't have enough juice in the US to help Maxi Cosi go up against Graco & Britax, etc?
Maxi Cosi & Baby Jogger Travel System Bundle, at TRU/BRU [toysrus.com via dt reader dan]