Sheesh. No one complained when our flip phones looked like Star Trek. Or when our iPads looked like, uh, Star Trek: The Next Generation. But let Fisher-Price design an iPad-holding infant chair that looks like Wall*E, and people start freaking the $)#*(% out.

"Soothing, entertaining and technology all in one great grow-with-me seat for baby."
I can't find it right now, but I know I've said it before: the ability to look in the lens, not at the screen, while taking a selfie, is humanity's next great evolutionary leap. And now we can make this happen!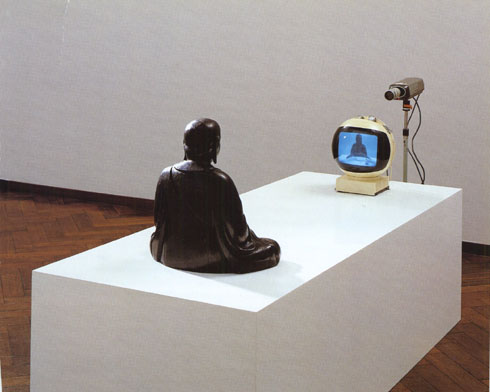 TV Buddha, 1974, Nam June Paik
Fisher-Price Ipad Apptivity Seat, Newborn-to-Toddler, $75 + your child's soul [amazon]
New baby's bouncy seat complete with iPad holder slammed as 'an embarrassment for humankind' as child experts say it can stunt development [dailymail, I know, via @guan]