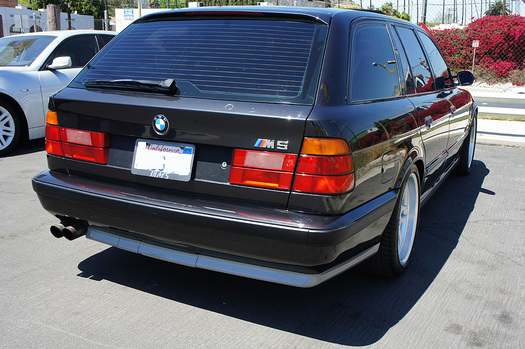 Well it's been a while since we've seen one of these 'round these here parts.
This is a 1993 BMW M5 Touring, one of only a very few that have ever made their way to the US. It was apparently federalized in 2001, and is currently for sale in Southern California for $25,000 or $26,000, depending on where you're reading.
1993 was the last year the M5 had the 3.8L inline-6. This example had the factory suspension swapped out, which has caused no end of consternation from the commentariat at Bring A Trailer.
But the asshauling reality and huhwhuh? rarity of the E34 M5 Touring, especially in the US, will surely help it find its next well-prepared owner.
1-of-841 [sic]: Federalized 1993 BMW M5 Wagon [bringatrailer.com via dt reader and M5 Touring hunter nathan]
1993 BMW Original Euro-spec M5 Touring (E34) [euromcars.com]
Previously: there are actually quite a few posts on DT about the BMW Tourings by now