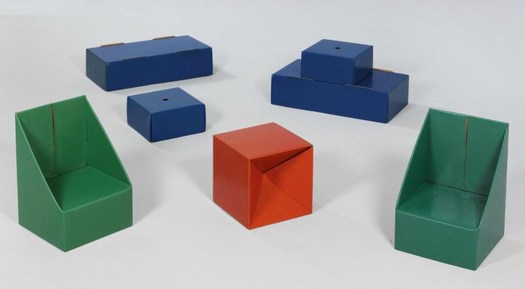 It really is amazing that this exists. Peter Raacke designed the Papp collection of cardboard kids furniture in 1967. By any reasonable expectation, it should all have been destroyed and recycled a dozen times by now.
But someone apparently socked a set away in a dark, dry place--and got Raacke to sign it at some point--because this six piece set in beautiful condition is going up for auction at Dorotheum next month. Did I say six? It might be seven. And not to quibble in the face of rarity, but what exactly are those blue pieces? Blocks? Footstools? The boxes the chairs came in?
Whatever they are, the set comes with what looks to be a museums & crazypersons-only estimate. But still. If you know where to get one cheaper, go for it.
14 May 2013, Lot 269 A "Popp siebensachen" [sic] children's set, by Peter Raacke, est EUR 3 - 4,000 [dorotheum.com via an ambitious project collapsing, who has many more photos

Previously:
2008: Nice Raacke! Otto kids chair by Peter Raack, ltd rd. reissue, EUR99
2007: Paper or Plastic?