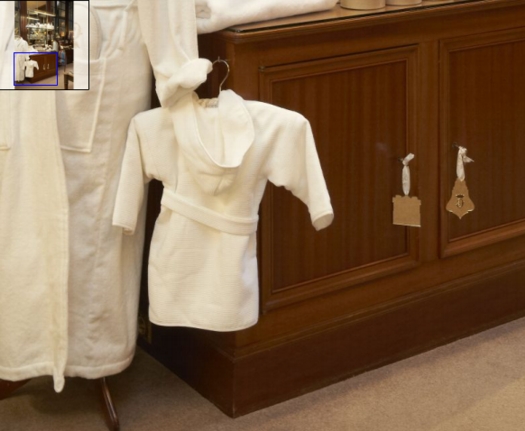 So the Hotel Crillon on the Place de la Concorde in Paris is closing for a gut reno, and they're auction off basically everything, floor to ceiling, that might be worth more than the cost of hauling it to the dump.
There are 3,500 lots of furniture, lamps, rugs, curtains, dinnerware, china, pots, carts, uniforms, garbage cans, mirrors, towels, robes, sheets [!], the mini-bars [?], the luggage racks. And most of it looks like the anonymous, well-made but worn-out 50s-era French reproduction junk that it is.
They're even selling the fixtures from the store, and all the kind of random, shiny vitrines from the hallways. The only thing apparently not for sale: this kid-sized robe-- how you way, peignoir---that was hanging off this tired-looking display case, which is being sold, along with two more, on the last day of the 5-day sale, for an est. EUR 400-600 on Apr. 22. Bonne chance with that.
Le Crillon 5/5: Lot 2312 SUITE DE TROIS PRESENTOIRS, Estimation 400 - 600 € [artcurial]
Apr 18-22, 2013: VENTE AUX ENCHÈRES DE 3 500 LOTS DE MOBILIER ET VINS DU MYTHIQUE PALACE PARISIEN LE CRILLON [artcurial]