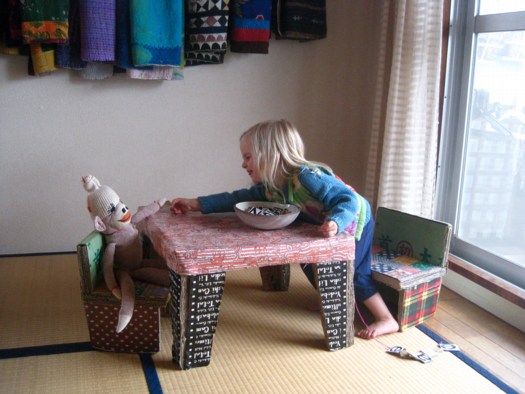 Seriously, kids go through so much stuff, so quickly, it really all should be made of cardboard. And then it's like, seriously, just make that yourself.
Which is a severe underselling of the awesomeness of Tokyo expat Amber's kids & cardboard projects blog, The Cardboard Collective.
It all started, as so many things in Japan do, with a mook: Amber came across a how-to guide for making cardboard kids' furniture, and decided to whip up the playtable and chairs for her two little daughters [above].
Two years later, the Collective is a major node in the global cardboard lifestyle network, with mecha-kawaii projects like making floppy little cars out of corks; hosting neighborhood cardboard playdates, and my own favorite [after the OG table & chairs, of course]: this sweet kids dresser system made from upcycled kiwi boxes.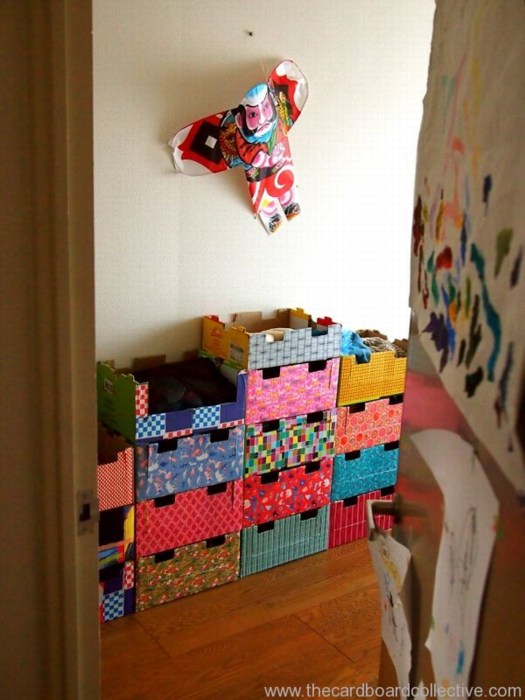 The mooks that got the ball rolling, btw, were called パパママつくって! [Papa, Mama, Make it!] by Ishukura Hiroyuki, and were published by NHK. パパママつくって!遊べる学べる段ボールおもちゃ, Play & Learn Cardboard Toys, came out in 2009, and パパママつくって!かわいい段ボール家具, Cute Cardboard Furniture was released in 2006. Amber had sold a few copies on etsy at one point, but now you'll have to fend for yourselves on Amazon Japan or wherever.
The Cardboard Collective [thecardboardcollective]
Stackable Cardboard Dressers for Kids [thecardboardcollective]