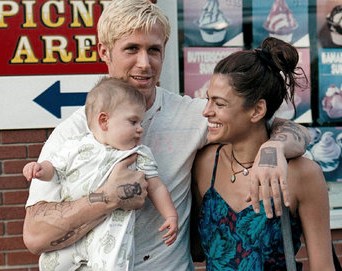 Hey Girl, Let Me Rob Some Banks To Support You And Our Kid
From the NY Times review of The Place Beyond The Pines which will set tumblr afire:
Luke (Ryan Gosling), first glimpsed as a tattoo-covered torso striding away from the camera, shows up with his seedy, itinerant fairground crew and encounters Romina (Eva Mendes), with whom he had a fling the last time he was in town. When he finds out that his wild oat has sprouted into a baby named Jason, Luke decides to stick around, insisting that he and Romina and Jason can be a family, even though Romina lives with another man (Mahershala Ali). To win her over and support his child, Luke, with the help of a local mechanic (the excellent Ben Mendelsohn), starts robbing banks, speeding away on his motorcycle.
The film also features Bradley Cooper as a cop with a baby son, and the dads and kids' fates are somehow intertwined in a way that Tony Scott does not want to reveal.
But with a runtime of 2.5+ hours, I suspect this is one dad-related film that most new parents will see only in animated gif format, or next year on Netflix.
The Place Beyond The Pines, directed by Derek Cianfrance [nyt]
Attachment Parenting Ryan Gosling