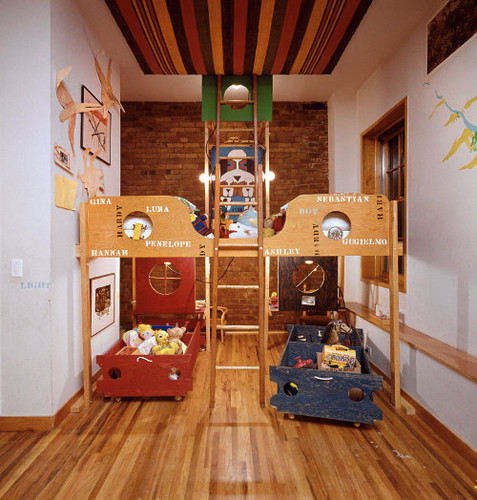 In the wake of MoMA's Century Of the Child exhibition, Paul Makovsky at Metropolis Magazine has assembled an awesome collection of images and childhood stories from the offspring of mid-century modernist designers.
There's György & Juliet Kepes' daughter Julie, talking about the nursery/playroom her parents designed in Cambridge, and which was partially re-created for Century of the Child. And there's Hugh Hardy's daughter Penelope, recalling the playhouse tower and stenciled loft bed [above] she and her brother shared.
But the most bonkers story has to be Catherine Prouvé's post-war, summer roadtrip to the Brittany coast--with one of her dad's prefab houses in tow. Seriously, Jean Prouvé, qu'est ce que c'est?
Modernists At Play [metropolismag]