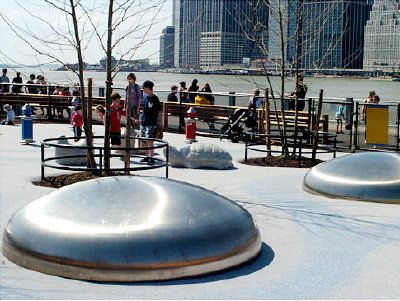 The pseudo-private government entity that ran Brooklyn Bridge Park when it opened, and the playground designer who installed those giant, stainless steel Mongolian BBQ playdomes in the first place, will split the $17,500 settlement awarded to a Brooklyn kid, now 3, who suffered second-degree burns when she climbed on them in the spring of 2010.
Seems like a lot of time and effort for a pretty small payout. How a lawyer's supposed to make ends meet in this day and age is beyond me.
Settlement in Suit Over Hot Climbing Domes at Brooklyn Park [nyt]
Previously: April 2010: It's Too Darn Hot
June 2010: Brooklyn: Now with 100% Less Mongolian BBQing!