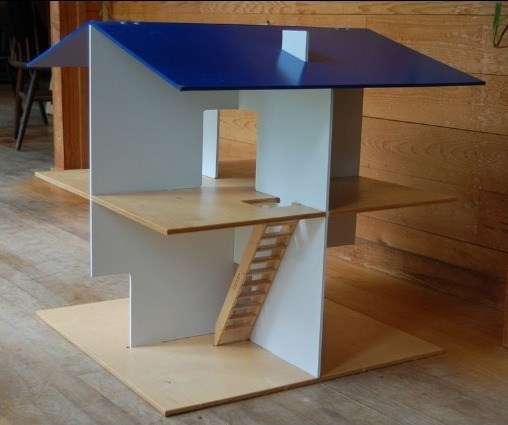 It's funny, all this time it's been an awesome icon of 60s American modernist kids design, and I'd never actually wondered who made the Creative Playthings slot-together, openside doll house.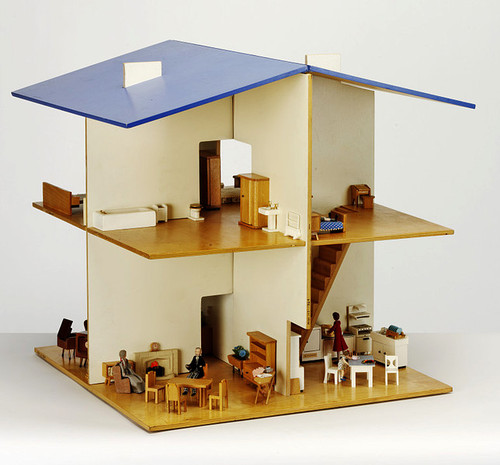 The answer, which Andy knew all along: British designer Roger Limbrick, for the British educational toy company Galt. Where Creative Playthings sourced it in the mid-60s. There it is in the collection of the Victoria & Albert Museum, full of ticky tacky furniture.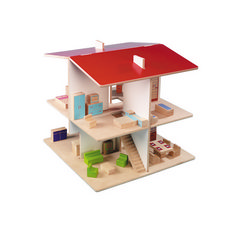 Amazingly, Galt still manufactures the open sides doll house today. Alas, it's made out of MDF. And it's £59.95 new, plus shipping.
Which is not that much less than the fine-looking vintage example shown up top, a 1969 model that is currently on eBay for an opening bid of $100 [plus $40 shipping? Really?].
Which all makes DT reader Lauren's recent email suggestion all the more compelling: why not make one?
If anyone is up for taking decent, straight-on photos of the pieces in your disassembled Creative Playthings dollhouse, I'd love to publish plans for making it.
With a simple, gridded PDF, you could make a house out of the original 1/4-in. ply, or maybe out of gatorboard, or foamcore. You could make one out of plexi or aluminum for that matter. How sick would that be?
You could also change the scale, turning the floor-filling original into a travel-sized, Playmobil hideout. And of course, you could paint it any way you like. Maybe we get the plans together, and then have a contest. With prizes, or maybe a benefit auction, with artists and designers making their own interpretations. Anyway, phone lines are open for your suggestions.
Creative Playthings Vintage 1969 Wooden Dollhouse, $100 opening bid, $150 BIN, $40 s/h, auction ends Sept. 5 [ebay]
"Openside dolls' house, 1963 [rogerlimbrick.info]
Dolls' House, Roger Limbrick [vam.ac.uk]
Open Sides Dolls' House, £59.95 [galt-educational.co.uk]