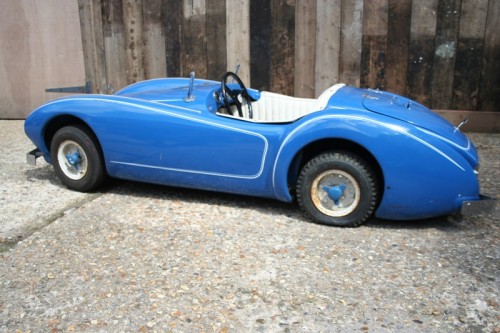 Important news about this kid-size replica of a BMW 507, which was auctioned off last year in Eng-uh-land. While it may very well be true that it was "custom-made in 1956 for use by the sons of a new 507 owner 'on the one mile private drive leading to their estate in Suffolk,'" it turns out it was also a product: the Larc-Douglas Offyette Sportster.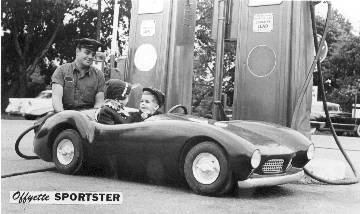 It was the second motorized, kid-sized racer designed by Carl Schiller, a pioneer of the so-called 1/4-scale--or quarter midget--genre. The first was a single seat, mini-Offenhauser called the Offyette Racer, which Schiller began making for his son Douglas in 1949.
The cars were sold complete and as kits by Larc Douglas, a joint venture between Schiller and Pat Amendiola, the AM in AMROC, the Long Island engineering outfit who manufactured the fiberglass bodies. By 1959, AMROC was producing its own quarter-scale Corvette, a 2hp, 1-speed, 1wd project called the AMROC Jr. Which was modeled by a 3-yo in Mechanix Illustrated. ["As a first step, cut all angle iron sections to size and..."]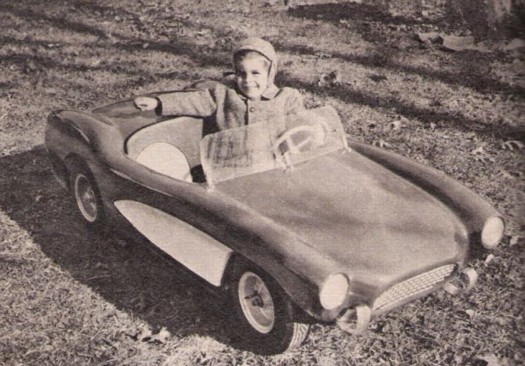 AMROC also produced mini-DeSotos for The Price Is Right and little delivery trucks, of which there are now apparently two surviving images.
The ROC of AMROC was Jim Rockefeller, a distant and poor but innovative relation, whose Rockefeller Yankee was actually the first production fiberglass sports car to be sold in the US, in 1953, a couple of months ahead of the Corvette. Jim's recollections on Pat's simple, handcoded webpage ends thus:
After retiring in 1980 I moved from Long Island and built my own house in Sundance, Fl...and finally moved to Sun City Center,FL. I'm now under Hospice care (wonderful people). So far I've lived a year beyond their expectations... :<)

I now spend my time online discussing Cosmology.

Jim Rockefeller,
July 2006

( Jim passed away in May 2007 )
And we know all this now because to light this morning, well-known quarter midget aficionado Terry Brannigan left a comment
on the previous DT post
, saying that he has obtained the original molds for the Larc Douglas Sportster, which leads me to suspect that Mr. Amendiola may have joined his former fiberglass pioneer at that great racetrack in the sky.
But Mr. Brannigan also says he is "in the process of making a few for my collection," so there's still at least one guy in one garage who knows how to build a kid-sized sports car from scratch. The world continues to amaze beyond expectations.
HAPPY UPDATE: From the comments, we learn Pat's alive and well, and we wish him a long, healthy, and happy life!
Pat Amendiola's Plastic Autos | Children's Cars [plasticautos.com]
Previously: Handmade Kid-Size BMW 507