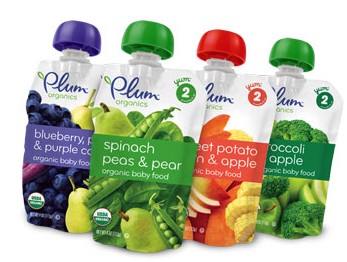 Holy moley, I see the headline on Matt Ritchel's NYT longread about baby food in a squeezebag, and I'm like, "Wait, exactly what family ritual is being squeezed here, exactly? The ritual of spooning mashed carrots into a Ziploc bag by hand? What?"
And then I realize he's packaged his trendpiece on the greatest baby food format since [insert otherwise unpopular foodgroup here] Booty with an anxiety-inducing parentingfail essay on the disappearance of the sit-down family meal. Well played, Master Ritchel, well played:
Alissa Bushnell, 45, said she keeps a pouch in her bag so she can give it to her 4 ½-year-old daughter during the drive home from school. "I've got 20 minutes in the car with a hungry kid," said Ms. Bushnell, a public relations consultant who lives in a rural town in Northern California and doesn't have time to prepare an alternative. She equates the pouch to having a back-seat TV in the car: a convenient distraction in harried times.
Haha, what? Just throw some Goldfish in a bag. Also, no. No way. Are you kidding? Foodbags are the exact opposite of back-seat TV. They are awesome. And perfect for traveling and snacks.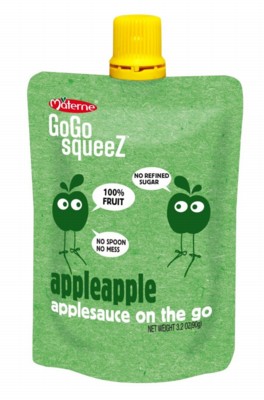 We first discovered pouches in the gate-side vending machine of a desolate airport terminal in France one morning, when we had a cranky kid and and hour-and-a-half before any shops were open. That was the applesauce of the gods, I tell you, best two euros I ever spent.
As for family dinner, if you can't wrangle your kid and your schedule to sit and eat at a table with some degree of regularity, that's your [serious but entirely different] problem.
Putting the Squeeze on a Family Ritual [nyt]
Buy Plum Organics baby food pouches by the box at Amazon [amazon]
We get the original GoGo Squeez applesauce by Materne, the French company who introduced the pouch thing, by the box, too [amazon]