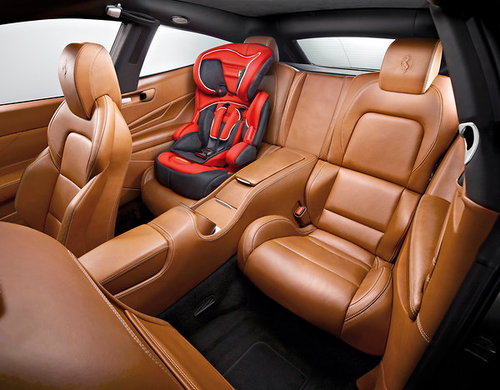 Speaking of Family Ferraris, it's looking like the new Ferrari FF 2+2 does not actually totally suck, which is...good? Ezra Dyer's review for the NY Times is so ridiculously faux-litest, I half expect that when the revolution comes, he'll try to save his own neck by insisting it was damning satire of the $400,000 preschool runner demographic:
One morning, I employed the FF's heroic power plant on a preschool run, my 2-year-old strapped into a car seat in the back. The FF was very likely the only vehicle in the school parking lot that day with a quoted top speed of 208 m.p.h. Does FF stand for "family fun"?
How about WTFF?
My favorite part is when Dyer goes on about how bold Ferrari is for introducing a car that steps "outside the safe confines of supercar orthodoxy":
It's a daring car, and I love the confidence it represents.

Ferrari could have just gone with the crowd and built a low-slung four-door like the Aston Martin Rapide... The world has enough Mercedes CLS clones.
I love that the Rapide and CLS are now run-of-the-mill family trucksters that the bold must counterprogram against.
Oh wait, actually, my favorite part is that you can spend nearly $100,000 on options on top of a $300,000 base price, but you're still expected to put up with a Chrysler parts bin navigation system and a non-matching, non-leather, Ferrari car seat.
Family Travel at the $300,000 Price Point [nyt via dt reader jeremy]