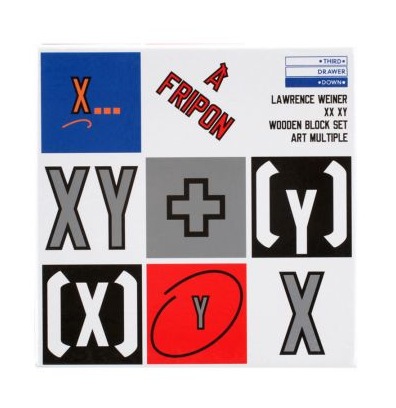 We were at a museum fundraiser last week, and the hosts, who have three little kids and a bunch of art, had these awesome Lawrence Weiner blocks on a side table in the living room.
They came from the bookstore attached to Yvon Lambert gallery in Paris, they said, which makes sense, because Lambert published the little art toy, called XX XY Blocks, as an edition of 1,000 last fall. They're also at Colette, and they're EUR55.
But if you're not in Paris, you can also get them at MoCA's gift shop, where they're $US55.
I didn't pick them up because the family's 2yo had carefully arranged them just so, but it did kind of look like the designs are stickered onto each side, not painted or printed. We'll see in 5-7 more business days, though.
Lawrence Weiner XX XY Wooden Blocks, $55 plus $15WTF shipping [mocastore.org]
Same thing, EUR55 [colette.fr]