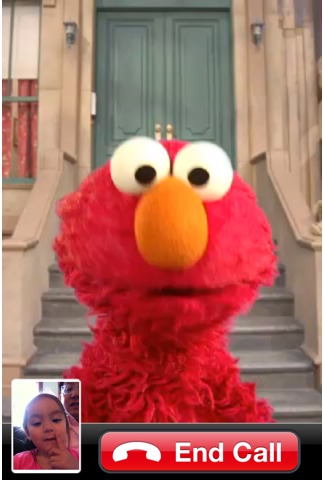 Blues Clues and Dora got a generation of kids to think they're talking to the TV, and now those kids are all grown up, and making iPhone apps. Including Elmo Calls, which basically simulates a FaceTime chat with the little red simpleton.
And it sounds like it kind of sucks:
@GlennF @khoi I'm disappointed by the app. My kids are frustrated, because Elmo is a terrible listener. He monologues/doesn't let them talk.

— Lex Friedman (@lexfri) May 25, 2012
But maybe your kid'll be fooled, and Elmo can convince him to buy more in-app calls at $0.99 a pop, or $4.99 for the "All Calls Pack."
So let's mock now, before Apple rolls out Siri technology to 3rd party developers, and this talking all day with Elmo thing is gonna get real serious real fast.
Elmo Calls [subtraction.com, image: khoi]
Elmo Calls, $0.99 to start, with no end in sight [itunes]