Well, these are cool. Play Modern is a modular ply cube playhouse system designed by Kansas City architect Kimball Hales and, uh, Mrs. Hales. Ah, here we go: Laura. BYU alums, in case the names didn't give it away already. [Surprisingly, no crafty Mormon mommyblog, though.]
The cubes comes in indoor birch or outdoor marine ply versions, and can be configured in a variety of ways, with various little accessories like aluminum railings to keep kids from falling off the second stories and whatnot.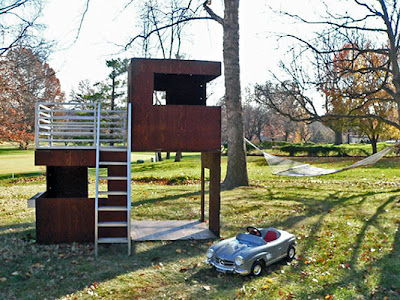 Rather alarmingly amazingly, they are locked together by friction, no hardware needed but a mallet. Which, sure, if you say so. Thank you, miracle of CNC table routers!
I think we're looking at a base of around $850/cube, plus add-ons.
Play Modern Cuba playhouses [play-modern.com via design-milk, thanks dt reader rolf]