Alright, so there is some movement in the Maclaren bankruptcy story. A couple of other sites picked up the story of Maclaren USA's Ch 7. liquidation filing, including BabyGizmo who, on Friday night, was as shocked as DT was:
We just did a Twitter Party with Maclaren back in November! Sure, they had laid off tons of employees last year and we haven't worked with them much recently due to their contacts always changing, but I would like to say - where was my press release on this?!? Where was my email addressing this? Isn't this news? Big news?
Big news indeed. Maybe it was the Twitter parties, or maybe Maclaren chairman Bahman Kia had accidentally
deleted my number from his cell phone
, but by Saturday, the obviously still-fully functioning incarnation of the company issued a statement. To
BabyGizmo
:
Well, our post was immediately seen by Maclaren people less than 12 hours after posting it. (You can't say people don't pay attention to us! :) ) Since I know so many people are wondering what is going on with Maclaren - whether they are shutting down completely or if it was legal tactics or what the heck is happening - we have decided to post their response to us regarding the bankruptcy.
Since the statement--from the company now known to everyone but Google and anyone who uses it as Maclaren Group--to
Patty at Baby Chic 101
Saturday night is basically the same, I will quote it in its entirety here, because her version includes the DT namecheck:
Please be assured that Maclaren Group is a fully operational organization. To clear the confusion, the specific details reported in Daddy Types do not relate to Maclaren Group. Here are the facts for your reference:



American Baby Products, formerly known as Maclaren USA, was a third party distributor for Maclaren branded products in the US market.


American Baby Products lost the rights to distribute Maclaren products, and the right to use the Maclaren name, in the Fall of 2010.


American Baby Products filed for Chapter 7 in December, 2011.


Maclaren, as a brand, changed its distribution strategy over the past years moving from third party distributors to distribution within the Maclaren group, allowing Maclaren to better ensure management of its products and its brand.


Maclaren is one global company which controls its distribution, following a common trend within the retail industry.


Today the Maclaren brand is unified worldwide. All 2012 products feature a single Global Safety Standard, which means that Maclaren buggys around the world will meet and exceed even the highest safety standards mandated anywhere in the world.


Within its industry Maclaren, by far, has the most comprehensive and highest level of safety standards around the world.



I hope this reassures you that all is well on our end
Yes, well.
At first I thought, maybe if I'd done more tweet parties with them, they'd have actually sent this statement to me within hours of posting about the bankruptcy on Tuesday. But then as I consider each bullet point, the fact that they didn't is probably just as revealing.
Because the mystery of the Maclaren USA liquidation really has nothing to do with the prospect that the company was going to cease operations; if anything, the stealthy nature of the filing, and the transition from Maclaren USA to Maclaren NA--which went unnoticed by consumers, retailers, everybody, apparently--shows that the company has been executing a longterm internal shift in a way that does not disrupt operations or tarnish the premium brand. [disclosure: I am a huge fan and steady user of Maclaren's products.]
But the statement raises eyebrows on several fronts. Let's take them in order:
American Baby Products, Inc., "formerly known as Maclaren USA," may have been a distributor, but it was a "third party" in the sense that any wholly owned subsidiary is. The bankruptcy filings show that Maclaren USA is 90% owned and controlled by Farzad Rastegar and his family [Kia holds a 10% stake]. Are Rastegar and Kia no longer associated with Maclaren, either as owners or CEO/Chairmen?
As for the "formerly known as" part, too, when I started looking around to see when MUSA transitioned to ABP, I was surprised to see that American Baby Products, Inc. was actually incorporated first, way back in 1999. Which is when Rastegar bought Maclaren out of receivership from his investment company the first time. So if anything, ABP has always been Maclaren USA, and vice versa.
The key is the second bullet, "the right to distribute Maclaren products" and "the right to use the Maclaren name." Losing distribution rights would certainly account for Maclaren USA's 99.5% drop in revenue for 2011. They had nothing to sell. And the rights to all Maclaren-related intellectual property are owned by an Antigua & Barbuda offshore company administered out of Geneva. If it's unclear who controls that company, Armon Ltd, it is entirely intentional. If their name is anything other than Rastegar, though, I would be very surprised.
This concept of a transition from "third-party distributor to distribution within the Maclaren Group," makes sense only to the extent Maclaren USA was ever outside Maclaren in the first place. It is true that in 2009, Phil & Teds dumped its longtime US distributor Regal Lager and set up their own sales, service, and distribution operation in the US. But Maclaren USA's case is nothing like that.
Maclaren NA, Inc. was created in the Fall of 2010. Its president is listed as Mr. Gogol Kafi of London, who Google identifies as the director of Maclaren Europe, Ltd.
During the 2009 Macopalypse recall, CNN mentioned a statement to the European Commission from "Maclaren's European arm" . But the one sending reassurances to the EC [pdf] was actually Sam McQuigg, managing director of Maclaren HK. McQuigg, speaking as the "local distributor," also explained to the local Hong Kong paper why the massive 1m-stroller US recall shouldn't worry customers:
The strollers here are safe, he stressed, adding that US distributors are not recalling the products for replacement or refund. "The language in the United States explicitly states a `voluntary recall,"' he said.
So the local HK distributor writing official letters to the EC about the US distributor on letterhead with the maclarenbaby.com URL.
Which, oh, look, maclarenbaby.com is owned by Maclaren USA, Inc. and registered to Farzad Rastegar. Here's a screenshot from about five minutes ago. I guess the URL will be sold in the liquidation, too? It's probably the company's single most valuable asset at this point.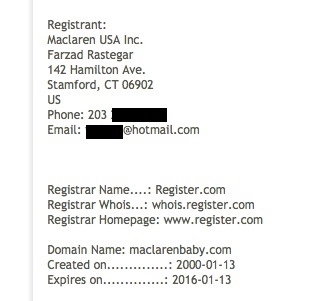 If all of this seems like near-meaningless papershuffling and insider baseball, it's because it is. It will only matter to the creditors of the bankrupt Maclaren USA. Or, more precisely, to the very few creditors of Maclaren USA who are not still owned by Farzad Rastegar: that'd be the seven finger-amputee kids suing the company--and crib designer David Netto.
"Maclaren is one global company...": Yes, well, unless you're trying to sue that company, and unless you get technical and count all the regional operating Maclarens and the offshore IP holding company as separate companies, that is true. [Though if there is one global company, I can't find where it's registered. Maclaren Group may be more of a brand concept at this point. Maybe it's another off-shore holding company somewhere. So Maclaren's vision for the global stroller business is now like the cruise industry, operating under flags of corporate convenience? No thanks.]
It is certainly one global brand, or as the next bullet puts it, "Today the Maclaren brand is unified worldwide." that meets "a single Global Safety Standard." The 2009 US recall did generate headlines like "Finger-slicing baby strollers - stay on sale" around the world.
There is no single, legally enforceable "Global Safety Standard." each country and market has its own. For the first half of my parenting life, the EU's safety standards and regulatory vitality seemed stricter or more reliable than the US's. In the last few years, the US has led the charge against lead in toys, dropside cribs, window blinds, hoodies--and folding strollers.
And Maclaren's new, patented rotator-type hinge/lock is superior, far safer, and available worldwide. Maclaren's current products are as awesome as ever, and are safer than ever. And all may indeed be well now on their end. And if they can get out of any safety responsibility or financial obligation for the millions of products they sold through 2010, it will be even better. At least from Maclaren's owner's perspective.