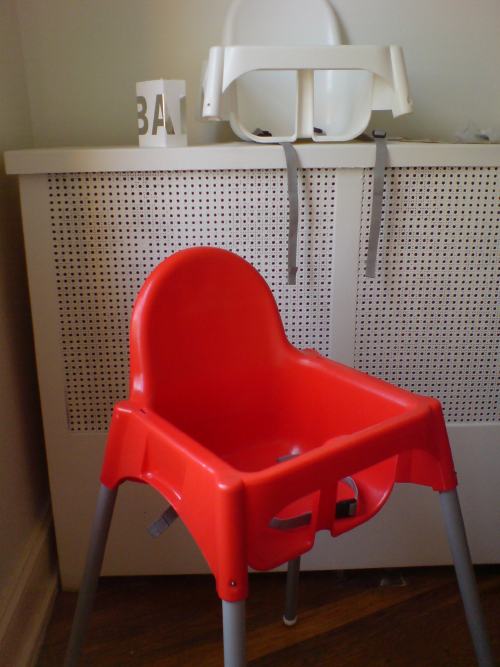 If there's one thing Ikea's famous for, it's meatballs. If there's two things, it's cheap, stylish furniture. The third thing? Value engineering the hell out that furniture year in and year out, to squeeze every possible penny of profit out of a $20 high chair.
And when they go too far, the CPSC steps in to help.
And so Ikea has recalled 169,000 Antilop high chairs made between 2006-10, after at least eight reports of kids falling out of the safety straps. Stronger replacement straps are available from the retailer, which are presumably like the ones used since Jan 2010?
If the straps from 2010 onwards are stronger and hence, unaffected, did it really take two years for this issue to work its way through the system? The CPSC's recall notice says Ikea's incident reports are "worldwide," not [just] in the US. But presumably, the company has not reporting Antilop buckle incidents in Belgium to the US government.
So there were enough incidents reported to Ikea before 2010 to prompt the company to strengthen the strap/buckle. But none that triggered a US recall. Does that mean Ikea and the CPSC had a 2+ year back-and-forth over whether to recall the high chair, which babies are falling out of? Given the way the CPSC has gone after dropside cribs and finger-chopping umbrella strollers, I doubt it.
Here's what I think happened: two US consumers filed complaints about the Antilop buckle on the CPSC's SaferProducts.gov database, which prompted an investigation, which revealed other incidents and the company's design change, which led to the recall.
Check out this parent's complaint, filed in July 2011:
The seat belt of the Ikea Antilop chair breaks open with little pressure from the baby allowing her to flip over the front of the chair. This happened to my 9 month old in 2009. I contacted Ikea but was told there was nothing they could do. I bought 2 of these chairs and both had unsafe seatbelts.
Another parent filed a complaint a couple of weeks later
saying that her 2.5yo pulled the buckle off of their c.2009 Antilop high chair. Ikea's official response to both was to "contact IKEA customer service.
And four months later--including the holidays--there's a recall. So the public database is having a direct effect. Put that on your salmon and smoke it.
IKEA Recalls to Repair High Chairs Due to Fall Hazard [cpsc, thanks dt reader melanie]