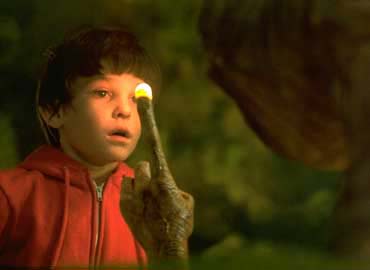 Alright, how was I supposed to know E.T. was so sad?
When the kid got the call at 7:00 to stand in for some missing creature in The Nutcracker, the wife hustled her over to the theater, and left K2 and I to watch E.T. ourselves.
And sure, I was braced for scary. But then, so was K2, whose favorite part of Lord of the Rings is the Uruk-hai attack.
Yeah, scary was not the problem. I guess I could take it as a sign of emotional development that at three, K2 was able to curl up into a ball next to me and start crying at exactly every moment Steven Spielberg wanted her to.
When SUV, as she kept calling him, was dead, and then when he wasn't, and then when they were at the ship, I tried to show that, hey look, I'm crying, too, but she wasn't believing that for a minute. And of course, then the wife and kid walk back in just as SUV and Elliot are saying goodbye, and it's crying mayhem.
"Why's he leaving?" the kid asks, offhandedly. "Because SUV can't live on the Earth, he'll die!" bawled her little sister. "I want to watch it again!" Sob sob sob.
This is what she cried herself to sleep saying: "I want to watch it again." I'm tearing up just thinking about it.