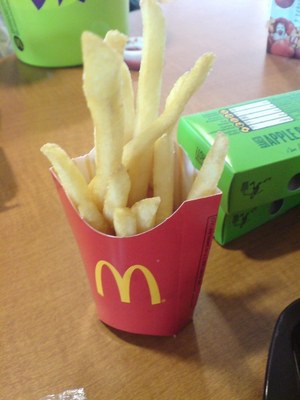 Does SF Weekly cover anything besides the Happy Meal Toy Ban? I guess I don't know, but columnist Joe Eskenazi sure does get worked up over it. What a smug crank.
Anyway, today's the first day of the San Francisco City Council's ban on free promotional toys for children's meals that don't meet certain nutritional requirements. It's a Happy Meal Toy Ban, and it promptly failed, as Eskenazi gleefully reports, because McDonald's just announced that its Happy Meal toys are no longer free, but can only be purchased alongside a Happy Meal. For ten cents. Which goes to the Ronald McDonald House.
That's right, one thin dime is all it takes to circumvent this much hyped and much criticized law, what a total failure of the Nanny State, San Francisco should be so embarrassed.
Except that the law, and the similar restrictions it inspired in cities around the country, and the debate it engendered and the attention it focused on the caloric and nutritional value of standard Happy Meals, was instrumental in getting McDonald's to change their menu nationwide. Now Happy Meals don't have soda, only apple juice or milk. They all have apple slices, with no caramel-flavored HFCS dip. The fries serving was cut by almost 60%, to just 100 calories. AND HAVE YOU SEEN HOW CUTE THAT LITTLE FRY BOX IS??? DON'T YOU WANT TO SNUGGLE IT LIKE A BABY ZHU ZHU PET??
So thanks to hippy dippy San Fran Skippy, every kid in the country now consumes 150-200 or so fewer calories every time their badgering for a piece of crap Bakugan is successful. Cinnamon Melts and Oreo McFlurries for everybody!
Happy Meal Ban: McDonald's Outsmarts San Francisco [sfweekly]
Previously: