While researching the latest developments in bamboo resin concept cars, DT senior minivan correspondent JJ Daddy-O decided it has been way too long since we've had a decent bamboo stroller sighting around here.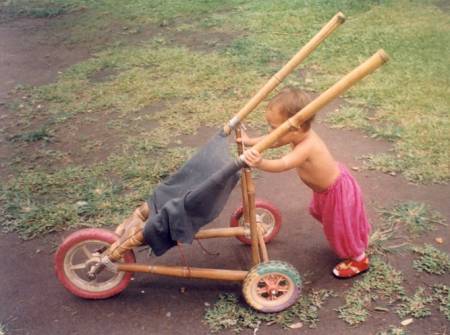 Coincidentally, it was way back in 2004, just before huntergatherer posted a set of photos of Willow [of course] pushing her own barebones, sling-seated, Gilligan-style rig on the Bamboo Craft mesageboard. Mhmm.
But JJD had something more elaborate in mind, something like this rather awesome split & bent bamboo superstroller, which flickr user srgfin shot in Pingyao, China in 2009. I think these warrant more in-depth study. Though judging by this study/tourist's slightly exoticist account from a 2002 visit to Tianjin, I wonder if bamboo strollers are already on a modernizing China's eradication list?
Tianjin, 2002: Toddler in a Bamboo Stroller [flickr user ubeit]
Previously: Chinese bamboo strollers, orphanage gear