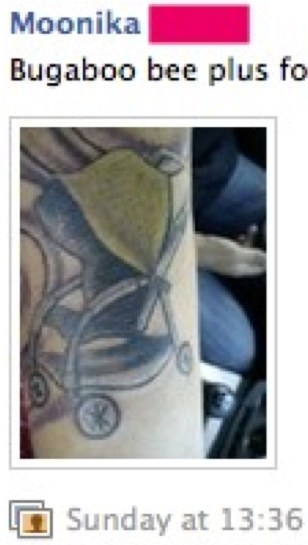 And speaking of crazy Bugaboo happenings, I'm surprised the publicists didn't send this one along. A STFU, Parents reader spotted it on Bugaboo's Facebook page.
STFU also has some of the awesome comments Moonika's tattoo has engendered. I would only add one suggestion: that if at all possible, you get some original stroller photography done, and avoid having random webstore clipart tattooed on your body forever.
Or even better, why not just go with the logo? It looks so inkable.
STFU, Parents! Bugaboo Bee Plus Tattoo [stfuparentsblog via dt readers katy and jj daddy-o]
Previously, 2006: Phil & Teds logo tat at ABC Kids expo