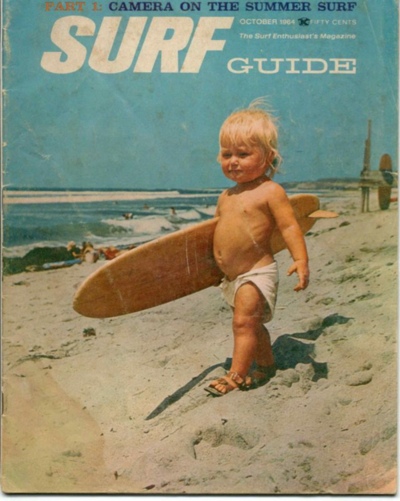 This perfect image has just made land via my friend Christine's awesome tumblr of zen.
The October 1964 cover of Surf Guide magazine featured a photo of Karen Gallagher taken at San Onofre. According to big sister Karolyn Gallagher's story at surfwarez.com, the kid-sized board first belonged to their brother Karl. [The Gallaghers' mom is Gretchen Van Dyke, of the surfing pioneer Van Dykes.]
It was made by none other than Dale "Hawk" Velzy, because he was like the only guy making surfboards in the 50s, at least surfboards a toddler could carry. So natural, and at once, so absolutely insane.
Surf Guide Vol. 2, No. 9 (October 1964) [surfwarez.com]