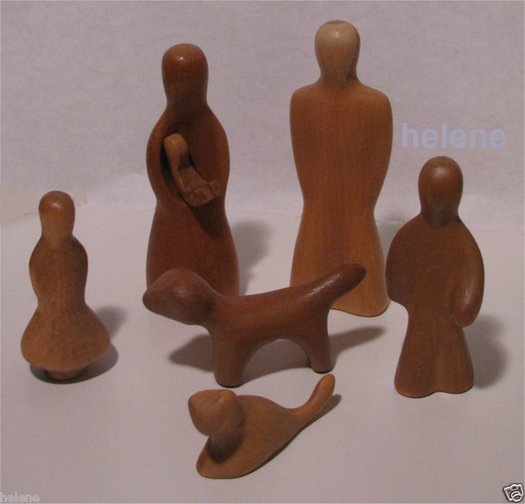 YOW.
When I first didn't bid on a pristine, complete set of Antonio Vitali's Wooden Family dolls made for Creative Playthings, in 2006, $51 was enough to scare me off.
When they sold for $229, I thought it was completely nuts.
Now, oh, how I wish I could buy those things for $229. Because eBay Powerseller Helene has a similar set of Vitali dolls, complete and beautiful, minus the box, AND WITH THREE DAYS LEFT TO GO, THEY ARE ALREADY $931.
I have a feeling my operating standard for completely nuts is about to get thrown out the window.
vtg ANTONIO VITALI Wood Toy FAMILY+cat+dog Sculpture, auction ends May 25, current bid: $931 [ebay via dt's favorite things I'm never gonna win on eBay shark, Andy]
Previously: Spectacular Creative Playthings wooden family by Antonio Vitali