From the Department of Whoa That's Never Happened Before,
So I got a personal email request from the CPSC yesterday. Not some mailing list alert, or even a "Dear Momblogger," pitch. A straight up,
"Hi Greg, I know that you previously wrote about a phil&teds recall. I'm hoping that you'd be willing to spread the word to parents about a CPSC consumer alert that we just issued."
Why sure, writing about phil&teds recalls is how I pass the time in between pitching their stroller to our about-to-have-a-second-kid friends.
But what's an alert? Turns out it's basically like a recall, with worse PR: "phil&ted Clip-On Chair Can Crush Fingers, Poses Fall Hazard; Stop Using It"
"The CPSC knows of numerous incidents" where one or both clamps on the Metoo have come loose, leaving kids dangling or falling, and exposing their tiny fingers to the scythe-like shearing of the pivoting clamps. BUT:
The company has refused to agree to a national recall of their hazardous products that is acceptable to CPSC. The company has offered a repair kit consisting of rubber boots to place on the upper clamp grips of the chairs. Consumers should be aware that CPSC has not approved a repair kit for this product, despite the firm's prior statement that it was conducting a recall "in cooperation with the U.S. Consumer Product Safety Commission."
Yow, going public with a recall showdown, and calling out P&T for claiming to be cooperating when they're not. In my seven-plus-years of CPSC watching, I've never seen anything like this.
Of course, I'm not seeing anything quite like this right now, either. P&T's website currently makes no mention of a Metoo recall. But it did. Here's the Google cache of philandteds.com, which had a "voluntary recall" notice for some Metoo chairs dated Feb. 1, 2011. [Here's a fat screenshot from May 7, 2011.] But it doesn't mention the CPSC. And P&T's recall only covered Metoo chairs manufactured before March 2010, when the company added rubber sleeves to the clamp arms to reduce slippage.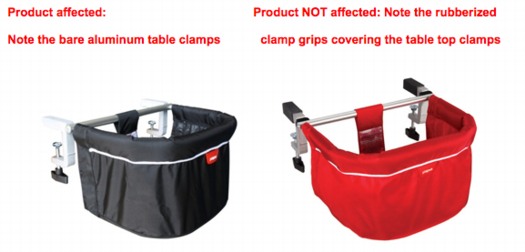 But I guess that's the dispute, because the CPSC warning covers all Metoo chairs, including those with the rubber sleeves, which I guess is why they don't approve of the repair kit [note: condensed graphic from a screenshot of cpsc.gov]: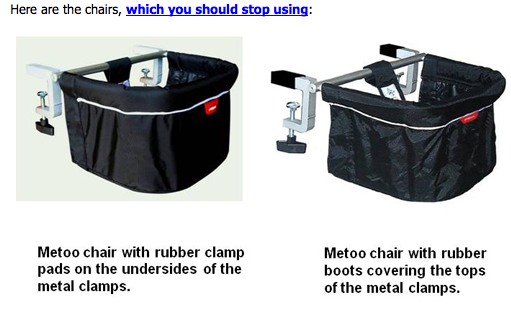 So yeah, awkward. Even more awkward than my having to track down the person who bought our Metoo chair on eBay a few months ago.
Or something like it!phil&ted Clip-On Chair Can Crush Fingers, Poses Fall Hazard; Stop Using It [cpsc.gov]