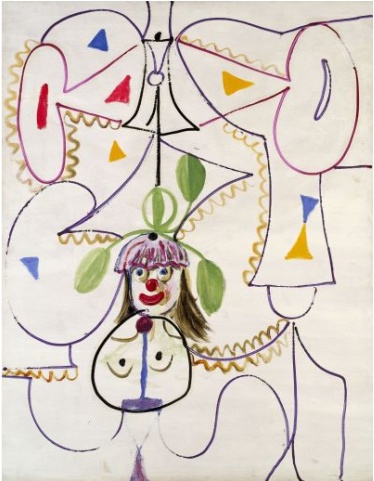 And here we have another portrait of Bruno Bischofberger's daughter by one of the artists he works with, a large 1989 painting, Portrait of Cora, by George Condo. It sold last year in Paris for EUR 46,000.
I don't know Bruno Bischofberger or his kids, but assuming his daughter's still alive, she'd be 31 or 32 years old now. I sure hope she's the one selling off all these portraits of her. Because otherwise, what a rip.
Also, now I'm thinking about all the artists I know who I haven't been hitting up to make portraits of the kids. A couple of Condo-sized auction results, and I'd have that 2022 Harvard tuition covered. I'm really dropping the ball here.
22 Mar 2010, Lot 454: George CONDO, PORTRAIT OF CORA, 1989, Sold for 46,389 € [artcurial.com]
UPDATE FROM THE COMMENTS: As Cora herself notes below, she is not the seller of this drawing. Of course, I did not say that she was, but in any case, glad that's all clear now.