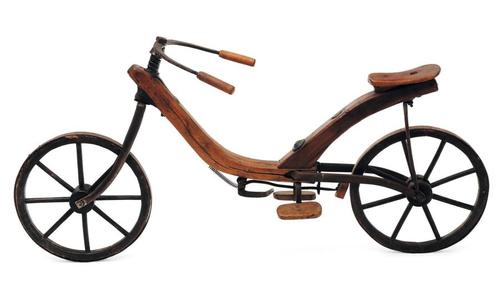 You may remember Pierre Berge & Associes from such insane auctions as his partner Yves Saint Laurent's, and that out-of-nowhere Designs for Kids sale last winter. Next up, toward the end of the month, is the deceptively titled Shabby Chic. Mondo-Blogo nailed it when he called it Pierre's Wunderkammer, though I can understand if the Belgians are still a little cool to the idea of speaking German.
Anyway, it is an awesome freakshow of useless baubles, wacky taxidermy, exotic trophies, and random, deluxe doodads. With a few fascinating enfant-related items thrown into the mix.
I'll lead off big with Lot 624: un Ancien vélo d'enfant [est. EUR 1500-1800], which may go by the name draisienne, and which is now famous as the original inspiration for the Like-A-Bike.
Lot 620: a polychrome cradle with some unidentified scenes painted on it [est. 2500-3000]. Berge doesn't waste money on needless scholarship or catalogue text writing; that way, he can pass the savings onto--well, I guess he keeps them. You connoisseur types can figure this stuff out on your own, non?
Here are a trio of ride-on toys: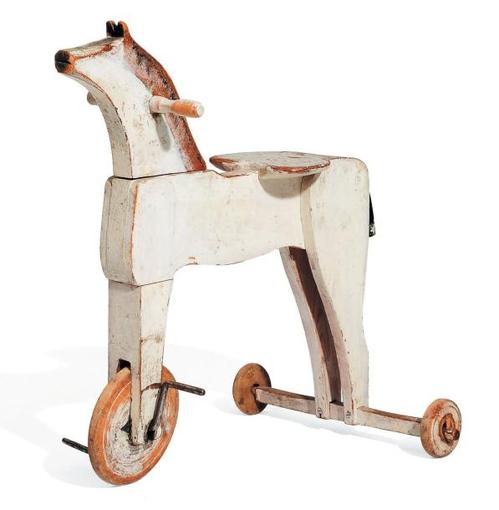 Lot 495: a painted wood horse-trike [est. EUR 180-200]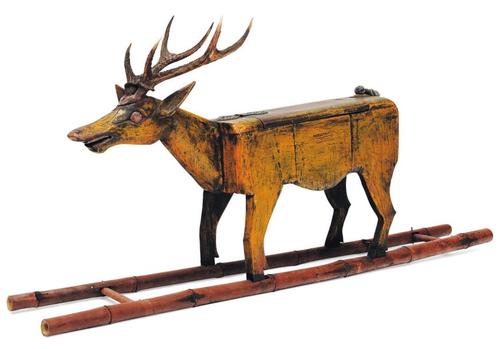 Lot 496: A pull-along elk with real antlers [est. EUR 500-700]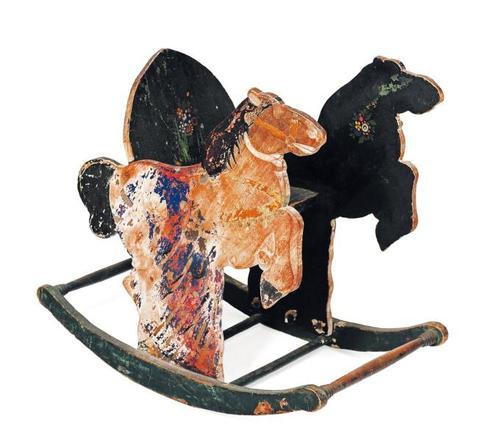 Lot 497: A 19th century polychrome rocking horse chair [EUR 150-200]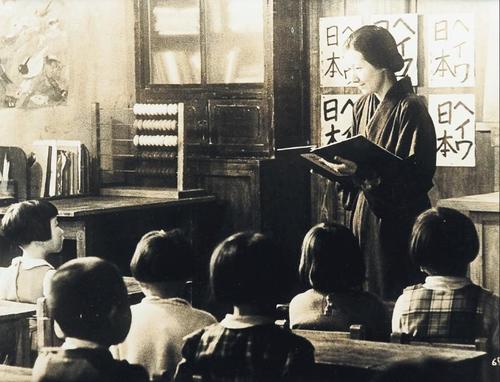 Lot 858: a 1930's era photograph of a classroom in China [est. EUR 200-300] Assuming this really is from China, I'm going to guess that it's from Taiwan's period as a Japanese colony. Because, otherwise, I doubt many Chinese schools in that era were teaching kids to write "Japan Peace" in katakana.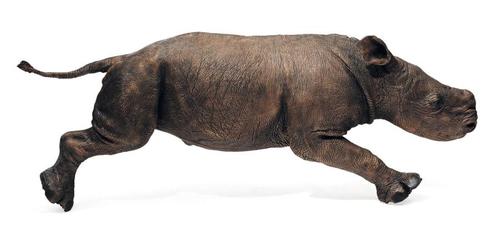 And finally, a baby what?? Lot 708: Coupe de bébé rhinocéros en résine [Eur 700-900] I think this just means a stuffed, freakin' baby rhinoceros. Does the coupe mean it's cut, maybe sliced down the middle, Damien Hirst-style? Whatever, the weirdest baby thing still barely beats the average for weirdness at this auction. If you're in Brussels, you should definitely check it out in person.
Shabby Chic 3: Mar 28, 2011 [pba-auctions.com via mondo-blogo]