I just discovered the awesome photography of Léon Gimpel, a turn-of-the-last-century Parisian amateur-turned-pioneering-photojournalist. He was one of the first photographers in France to experiment with shooting color; he engineered his own chemical tweaks to the Lumiere brothers' Autochrome technology as early as 1907, and he shot color photographs of World War I. World War I, people!
Here's a combat series he shot over a couple of weeks in August-September 1915, when he was embedded with L'Armée de la rue Grenéta. Petit Chap presented a much larger selection ordered for aesthetic/narrative effect, but in the interests of journalistic integrity, here they are in [their purported] chronological order:
22 août 1915 - L'Armée de la rue Grenéta : remise d'une décoration sur le front des troupes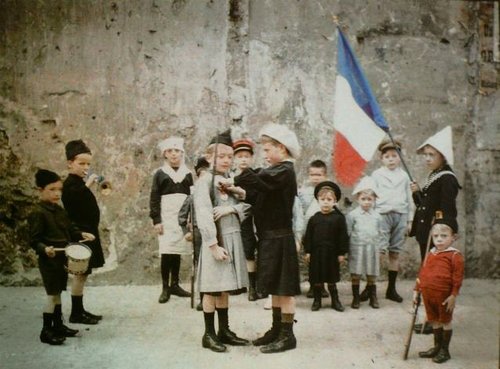 29 août 1915 - La Guerre chez les gosses: exécution d'un Boche... au moyen d'une pièce de 75!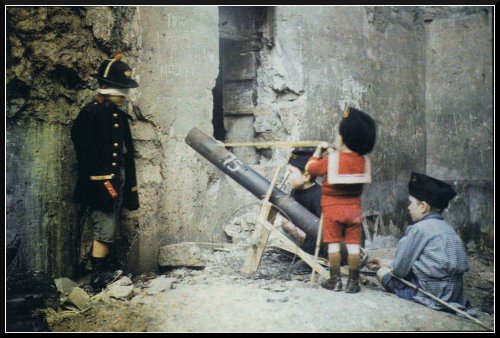 12 septembre 1915 - Interrogatoire d'un prisonnier

19 septembre 1915 - Un « Taube » est signalé; une pièce de 75 est aussitôt mise en batterie pendant que l'aviateur « Pépète » s'apprête à le prendre en chasse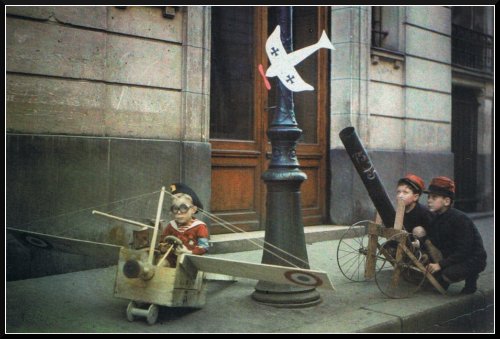 19 septembre 1915 - l'aviateur « Pépète » vient d'abattre un « Taube » à coups de mitrailleuse

19 septembre 1915 - le célèbre aviateur « Pépète » triomphe devant sa victime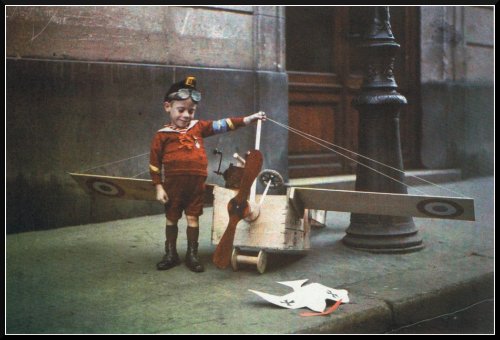 Yeah, yeah, if not by the time the executed Boche reappears a week later in perfectly composed surrender and interrogation shots, then by the time you see « Pépète » dangling unaided from a lamppost, you realize the entire thing is being staged for Gimpel's camera. Which doesn't make it any less real; I mean, what were urchins in Paris doing in the smack middle of World War One, right? Still, you gotta feel bad for the kid who always got stuck playing the Boche.
UPDATE: Some interesting comments below about the dates of these photos. It's not definitive, but the Australian War Memorial site apparently included them in an exhibition of rare color photos of WWI. Gimpel befriended the kids who lived on this street in a largely commercial neighborhood, and who had formed their own army, which Gimpel would come and document--and provide logistical and supply line support for--on Sundays. Fascinating.

Léon Gimpel, reporter [petitchap.com]
Léon Gimpel (1873-1948), the audacious work of a photographer, 2008 [musee-dorsay.fr]