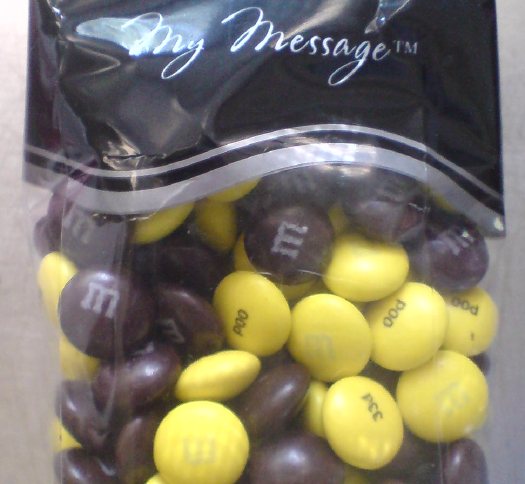 I'm so glad to see Pee & Poo, the cuddly toys from Sweden, advertising on Daddy Types again; I think they're awesome. And with free shipping through December, there really is no better time to buy.
But to celebrate, I think we'll have a DT Giveaway. My first idea was to do a tagalong gift for everyone who orders a Pee & Poo set, but the logistics are a mess, so instead, I'll do a random drawing.
Leave a comment below, and I'll select four winners at random to receive a 7 oz. bag of plain M&Ms, custom-printed printed with 33d and 00d [above]. We I used some for as congratulations for K2's toilet training, and they worked miracles. She's in there going 33d right now, in fact.
To be valid, your entry must include two things: an upside-down word--made from letters and numbers, just like you used to do on your handheld calculators--and a valid email address [which won't be shown, or used in any way other than to contact you if you win].
The contest will run as long as the Pee & Poo ad is up, so keep an eye out. Multiple words are fine, but let's leave it at one chance per household. Be creative, and try not to just duplicate whatever else is in there. I mean, do you know how long it took me to come up with 33d & 00d?