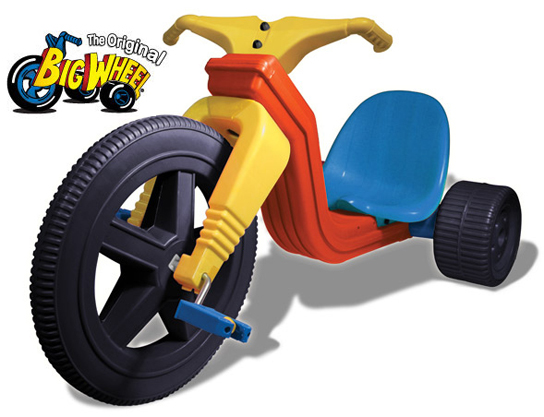 Have you tried looking for an old-school Big Wheel for your kid? What a e-commerce shitshow.
There are, of course, Big Wheel-like products in whatever bigbox store you visit, but the pull of nostalgia is strong, and the dream lives on of seeing your kid grab that brake and throw the wheel and spin out in the street.
Since Marx, the original manufacturer, is long gone, and Empire, its successor was outsourced to death, it would seem that Cedar Rapids, Iowa-based Alpha International has taken over the The Original Big Wheel concept. They manufacture a variety of Big Wheels in the US, including the Hot Cycle.
So far, so good, right? But what does this mean, "Limited Edition, Only 500 available in USA"? And if it's "In Stock!" why should I "Please allow 2 to 8 weeks for delivery"?
And why is it $129 at originalbigwheel.us, but when you go to originalbigwheel.com, it kicks you to an outfit called California-toys.com, which sells then "new or used" for $69-109?
What's going on here?
Alpha was run by a guy named Jody Keener, but it was owned by his wife Connie Hung. Which got awkward and complicated during their nasty divorce. Which apparently sank the company, with Keener taking some kind of control of some of the brands and assets as part of his new company, J. Lloyd International. Which is either a Made in USA dream, or if the anonymous but detailed commenter on this Gazette story is to be believed, a crazy, no-payin', bills-fleeing, distribution-ruining mess.
Your results may vary, of course, but if I were buying a Big Wheel for Christmas, I'd call and give them my own Fedex account number. Anyway, there's no brake.