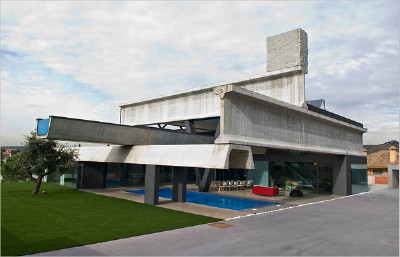 Ooh boy, if you thought the cantilevering was dramatic...
The New York Times leaves unmentioned the complicated calculations that went into the creation of Madrid architect Anton Garcia Abril's house for his wife and two kids. And I'm not talking about the concrete I-beams, irrigation ditches, and other infrastructure components.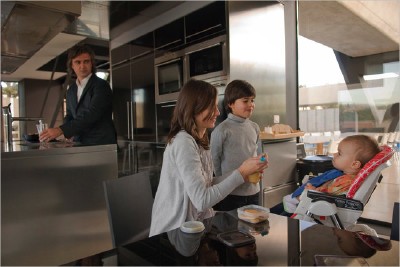 But the pieces of the puzzle are all there for the stacking:
ANTÓN GARCÍA ABRIL is 41, but he hasn't lost his childlike impulse to experiment.

...

...the major construction on the two-story house he shares with Débora Mesa, 29, an architect at his Madrid firm...

...

The 2,190-square-foot home was built...on a lot Mr. García bought a decade ago...

...

On the second floor are the master bedroom, where Alejandro, the couple's 1-year-old son, sleeps with his parents; the other bedroom belongs to Antón, Mr. García's 8-year-old son from a previous marriage, who often stays with them...

...

The house, Mr. García said, represents the culmination of a process that began seven years ago, when he and Ms. Mesa "were thinking about how to start our new life."
Seven years ago, when Papa Anton was 34, Ms. Mesa was 22, and Baby Anton was 1, and when the first Mrs. Abril was perhaps less-than-thrilled with her husband's childlike impulses to experiment.
Which is all less complicated than figuring out why they got everything from Ikea except the one piece of furniture they should have: the Antilop kicks that Primo Pappa high chair's butt.
An Architect's House Made From Infrastructure [nyt]
video of the construction from 2007 [!] [youtube]
tons of photos of the Hemeroscopium House from early 2009 [ifitshipitshere]