Just today, Michael from Stopping Off Place confirmed that the unidentified lithograph I'd helped a friend move out of his childhood home this summer was, in fact, by Ezra Jack Keats. [Vintage Children's Books My Kid Loves just posted some images from the book, in fact, Zoo, Where Are You?]
I mention this because it gives me hope that by working together, we can figure out who made this rather awesome, old powder-coated steel high chair posted by Matthew Arnold, a New Zealander with a sharp eye and a flickr stream to prove it.
It has the curved grace of a Gerald Summers plywood chair [the good one, that is] and the webbed cotton strap utility of a bunk on a WWII-era troop transport. So let's get hopping, shall we?
update: Alright, baby steps. Matt emailed to say that while he has no additional info about the chairs, and can't recall where he saw it online 2-3 years ago [!], he did also grab a couple of extra photos. They show the chair with a cushion, which may have been original to the product, or perhaps was sewn by a distraught grandmother who was appalled that her modern design snob son would let that little angel sitting on cold steel.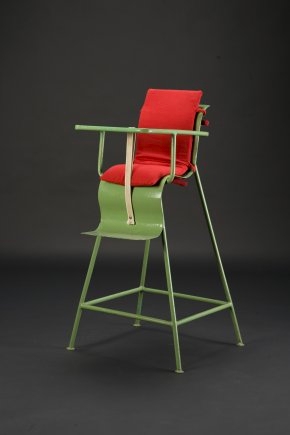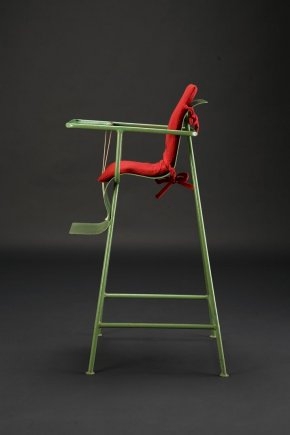 And besides looking awesome, this profile shot gives the home metalworker a bit more info about how the rear legs attach to the seat. And how far out the scythe-like footrest should protrude.
Unknown [high chair] in lowerseftonrd's flickr [flickr via stork bites man, where Andy it totally en fuego at the moment. quick, check it out what the dates are still aligned.]