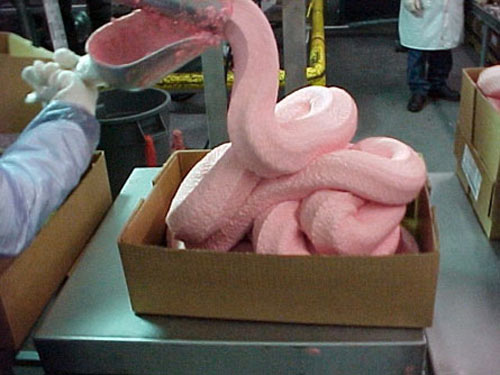 Yeah, so this single photo of mechanically separated chicken is now entrenched in the web as the apparently freakout-inducing answer to "what are Chicken McNuggets made from?"
Ever the Internet statesman, Kottke calls for calm, or at least a little context:
I wish the person who wrote the original entry would correct it because I'm tired of seeing it popping up everywhere. The truth is strange enough without having to say that chicken nuggets contain eyeballs, bones, and large quantities of ammonia.
Glad to lend a hand:
First, remember that the McDonald's in the Madrid airport has a McNugget extrusion mold plate displayed on the wall.
Now take a look at this educational film from the delightful children's program [1], Wonder Showzen, where the kids visit a slaughterhouse and hot dog factory.
There! At 1:17! Did you see that?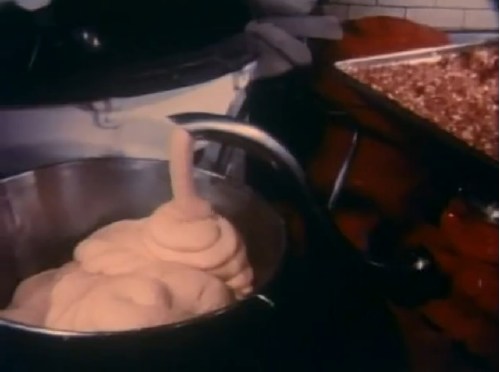 It's a little softer, but I'm sure that in the 30 years since this film was made, McDonald's chefs and food scientists have been able to figure out how to firm it up so that McNuggets can keep one of their four trademark shapes.
Just swap out the pigs for some chickens and there you have it, McNuggets are hot dogs.
[1] Wonder Showzen, not actually for kids.
UPDATE There is some controversy in the comments about the use of utterly context-less Internet pictures and Wonder Showzen as authoritative information sources. I have made an attempt to "get my facts straight" in a separate post.