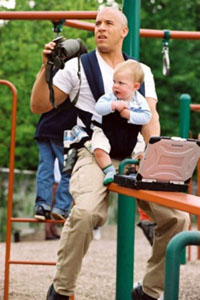 So yesterday archaeo-anthropologist Timothy Taylor explained to Gizmodo that the discovery of 2.5 million-year-old chipped stone tools that are at least 300,000 years older than the oldest known homo fossils suggests that not only did humans not invent tools, tools invented humans. I know you can walk upright, but for this theory, I suggest you be sitting down:
What were these tools used for?

Upright female hominins walking the savannah had a real problem: their babies couldn't cling to them the way a chimp baby could cling to its mother. Carrying an infant would have been the highest drain on energy for a hominin female - higher than lactation. So what did they do? I believe they figured out how to carry their newborns using a loop of animal tissue. Evidence of the slings hasn't survived, but in the same way that we infer lungs and organs from the bones of fossils that survive, it is from the stone tools that we can infer the bits that don't last: things made from sinew, wood, leather and grasses.
That is right, we owe the entirety of human evolution and existence to baby slings.
Which might be one argument for convincing the CPSC to not ban them after all. Help us, newly announced board of the recently formed Baby Carrier Industry Alliance, you're our only hope!
Artificial Ape Man: How Technology Created Humans [gizmodo]
Taylor's book, The Artificial Ape: How Technology Changed the Course of Human Evolution, is on sale now [amazon]
Baby Carrier Industry Alliance announces board and names Industry Insider as Executive Director [babycarrierindustryalliance.memberlodge.org]