Happy Meal toys are the toy equivalent of McDonalds french fries, which are in turn the food equivalent of cigarettes. They incite and fill an instant craving. Their utility wears off in about five minutes. By which point, they've lodged themselves in lungs, arteries, and carseat cracks, though not necessarily in that order.
There should not need to be laws to protect children from such industrial-scale manipulation of primal behaviors. But you know what, parents are often giant, oblivious idiots when it comes to Happy Meals. Food or toy, they can't see their own susceptibility being played and upsold, any more than they can see their own feet. They don't want to be told what to do, but they're more than happy to let some random corporation decide what their kid eats.
And so San Francisco's Board of Supervisors is reportedly [though I can't find the actual legislation itself, and damned if USA Today's gonna actually cite or link to it] considering a ban on toys with restaurant kids' meals that don't "meet more stringent calorie and sodium limits."
Which supposed, proposed legislation is based on actual legislation passed in Santa Clara County, next to San Francisco, San Jose and everything in between, but which turns out to only affect about a dozen fast food restaurants in the unincorporated areas of the county. As SFGate reported in April:
The law bans toy giveaways in children's meals that contain more than 485 calories, derive more than 35 percent of their calories from fat or 10 percent from added sweeteners, or have more than 600 mg of sodium. The totals are based on children's health standards set by the U.S. Department of Health and Human Services.
Let's run the numbers:
A hamburger's 250 calories.
Cheeseburger, 300.
4-pc McNuggets, 190.
Small fries,230.
Apple Dippers are 100, but 70 of that is the dip.
Soda's 150, but milk or juice is 100.
So anyway you fry it, it's basically a choice between fries or a toy.
Which is interesting, because HappyMeal.com doesn't even mention fries with a Happy Meal anymore. Or soda. And yet, as USA Today reported last month, fries and soda were the default for almost all Happy Meals. This, according to Center for Science in the Public Interest, whose 75 secret Happy Meal shoppers across the country were given drink options ["Soda was usually the first option mentioned." Oh no!!] but were only asked, "fries or apples?" 7% of the time, which means five times. Not exactly peer-review, but good enough to sketch out the differences between McDonald's media/information strategy and their internal operating defaults.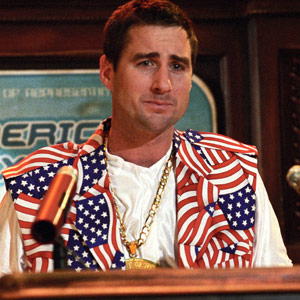 But then that story suddenly veers into a threat "to sue the fast-food chain if it continues to use toys to promote Happy Meals to children."
And then holy smokes, the Campaign for Commercial-Free Childhood suddenly goes off on Happy Meal toys last week, not because they're misleading or unhealthy, but because the Ben Grimm doll "menacingly roars 'It's clobberin' time!'" and because the Human Torch is, seriously, "a man on fire." Seriously. Is it just me, or has the whole world gone Frito Pendejo 495 years ahead of schedule?
Which would explain why no one even touches on the real [sic] problem with Happy Meal toys, which is that they're corporate, crap, and outrageously gender-stereotyped. It is just me. I'll just shut up and wait for pumpkin pie season.
598 comments, of course: San Francisco proposal would limit toys in kids' meals [usatoday]
Santa Clara County says no to fast food toys [sfgate.com]
'Want fries with that' assumed, not asked for McDonald's Happy Meals [usatoday]
Controversy Surrounds Fantastic Four Happy Meal Toys [cinematical]