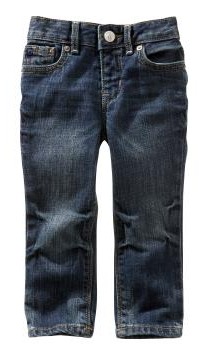 One of the greatest media innovations of the 20th century was NY1's morning show, where Pat Kiernan would skim the top stories from the day's newspapers to you on TV.
Which I thought of when I realized the Wall Street Journal got their skinny jeans for toddlers story from watching Stephen Colbert talk about a Baby Gap ad in some parenting magazine.
Who cares where it comes from, though, when a trend piece has such great quotes?
"Babies and toddlers have big bellies, and skinny jeans are not for people with big bellies," says Ms. Lane, a 29-year-old museum marketing director. "But they still work."

...

"People love trend take-downs," says Mr. [Mark] Breitbard, [EVP, Gap Kids & BabyGap]. "Fashion-right clothes are really adorable the smaller they get."

...

...said Michelle DeMartini, senior vice president of Old Navy kids and baby design and merchandising. "We sent our teams out to playgrounds, not in a stalking way, but just to kind of watch the consumer," she says.
There's more, too, including whole bits about jean construction, product testing, Elizabeth Holmes, you reported the hell out of the skinny toddler jean piece, my hat goes off to you.
As for us, we found out about this trend the old-fashioned way, by ordering K2 some jeans online, trying them on her, and staring. The only positive thing I have to say about skinny toddler jeans is at least they're not jeggings.
Which, well, just go read the story.
Actually, they do! Do These Jeans Make My Diaper Look Big? [wsj.com via dt trend scout rolf]
Actual product name: Mini skinny jeans, sizes 0-3m and up [gap.com]