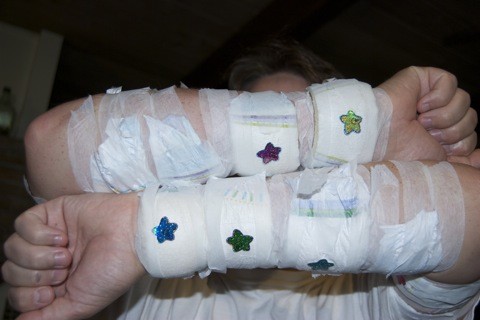 I've been freaking out over it all weekend, and there's just no way around it: it's hard to top Z-Recommends for Freakout News:
"This made the purchase of synthetic urine feel a bit spendy, but can you blame me? Really?"
HOLY CRAP, THE MAN STRAPPED POO-FILLED DIAPERS TO HIS FOREARMS FOR A DAY! FOR SCIENCE!
After hounding the reformulated Pampers Dry Max diaper rash controversy for quite a while, the Z-Recs clan actually did a side-by-side test of skin irritation ON JEREMIAH'S ARMS.
The results are not "scientific," but they are a helluva lot closer to science than they are to playground anecdote--or random blog musing--and so they should be hard-to-impossible for Procter & Gamble to ignore or diminish.
This is mobilized, empowered, collaborative, serious, consumer investigation and education, people: an exhaustive, 10-page report of carefully prepared and observed results. And what ARE the results? DO the new Pampers Dry Max diapers cause rashes and irritation? Let me put it this way: the answer is not no.
And in other news, a single ambiguous reference to a 2009 study of Chinese can factory workers, and THIS is your headline, Independent? Really? BPA kills more than his erection"