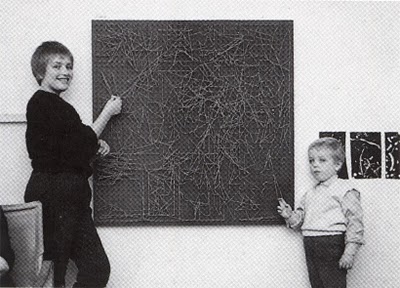 It looks like the small trove of kid-related designs by Dieter Roth will only trickle out to the world one or two at a time.
Stopping Off Place has an awesome one, Gummibandbild, a type of adjustable picture Roth began making in 1960-61, while in Reykjavik. He sold the 1m square work as a kit, which included a bag of rubber bands and a sheet of painted plywood set with a grid of nails.
The photo above, taken from MoMA's 2003 Roth catalogue, shows Adda Ragnarsdóttir and the artist's then almost 3-yo son Karl Roth.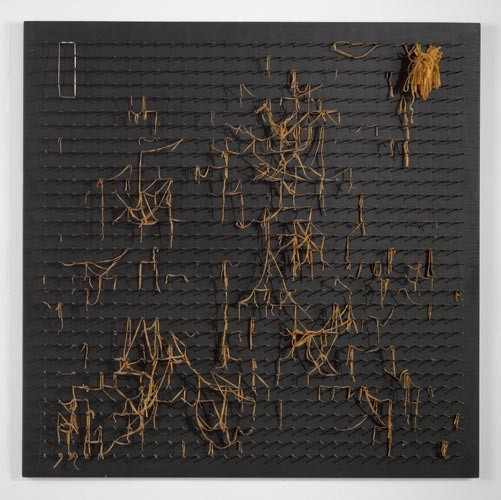 Stopping Off Place has a contemporary photo of a greenish Rubber Band Picture. Another example, in black, was included last winter in an exhibition of oddball European sculpture at Luhring Augustine Gallery [remember that crazy Martin Kippenberger sculpture of the bronze pig's leg in the umbrella stroller?] but its crumbly, vintage rubber bands all looked like crap.
The 1961 study for Roth's gummibandbilder series, just 22x22cm, sold for a mere EUR8125 in 2008. I imagine your homage version could clock in at considerably less than that.
Gummibandbild, Rubber Band Picture, by Dieter Roth [stopping off place]