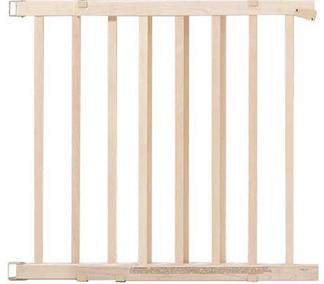 We have no stairs, so unlike, say, the global pandemic of umbrella stroller finger amputations, the recall Friday of 180,000 Evenflo wooden Top-of-Stair gates feels a little far from my own parenting experience.
But 142 reports of broken or detached slats and at least 13 injured kids since 2007--though one kid fell down one step, so yeah--can't be ignored. And it makes me wonder if the stair gate manufacturers have been using the cheap-ass crib manufacturers' playbook by using cut-rate, flimsy wood for their no-tests-required American slats.
Time will tell. Meanwhile, check the CPSC website for the affected model numbers, and then get Evenflo to cough up a new stair gate for you, pronto.
Evenflo Recalls Top-of-Stair Plus Wood Gates Due to Fall Hazard [cpsc.gov, thanks dt readers jason and sarah]