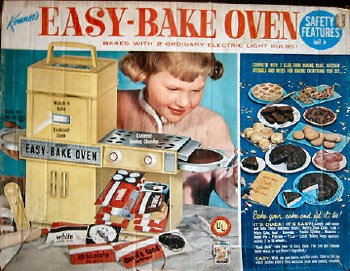 Regular readers of Daddy Types, who know better than anyone just how fascinating and insightful I am, can appreciate it when I say that I am, without a doubt, the least interesting thing in Adweek's in-depth article about [not] marketing cooking toys to boys.
Boys 2-11 love watching cooking shows; they're taking cooking classes; they're cooking and pretending to cook. But cooking toys are still in the girls' section of the toy store, and they're all/mostly still only marketed to girls.
What I noticed, though, was that the toy companies don't like to get called out on their gender-based marketing strategies. The makers of the girliest cooking toys--including Hasbro, makers of the venerable Easy-Bake Oven and a new cake/cupcake thing called Girl Gourmet--either sidestepped the issue or declined to respond altogether. Awkward.
And then on what I thought was a completely unrelated article, the New York Times reports from some kitchen appliance expo where the big innovation is apparently one-button cooking: "Popcorn." "Steak." "Bread." Everything is becoming the 7-Eleven microwave. And all the toaster ovens have "pizza bumps" because all anyone eats now is frozen pizza.
What the hell, people? Do you see the connection? It's the Easy-Bake Oven. It was introduced in 1963. Entire generations since then have been brainwashed to be incapable of cooking with anything more complicated than a light bulb. Entire generations of girls, that is. It's now up to boys and their parents [i.e., dads] to rescue cooking before it's too late.
Toy Pitches Half-Baked [adweek.com]
Kitchen Gadgets Take The Fast-Food Mentality Into The Home [nyt]