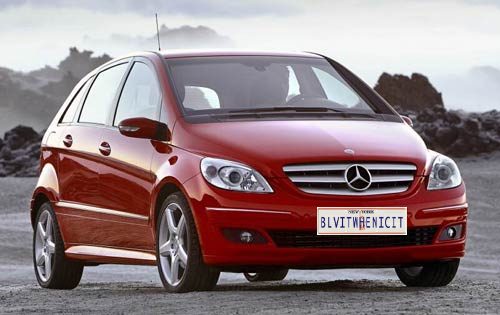 Woo-hoo! Finally! America is getting the Mercedes B-Class, the sporty, luxury car designed specifically for young, urban families!
Oh, but not this one, the next-gen B-Class, slated for 2011. And even then, not really. Here's how Autoblog really nails it down:
..we've been hearing rumblings for quite some time that one of these models might make its way Stateside before too long. Those rumors continue today with this report from Automotive News, which suggests that a compact car and a small SUV may soon be in the offing in the U.S.
Mhmm. Nice hustle. But that Automotive News story from Geneva is at once more specific and more obvious about what MBUSA's really planning: nothing:
[Sales & Marketing head Joachim Schimidt] said "a very stylish sedan" to be sold in Europe as part of the new four-vehicle B-class family also is being considered for the United States.

The U.S. launch schedule has not been determined because of uncertainty about the euro-dollar exchange rate. But Schmidt said the United States appears to be ready for a premium small car. A key to the B class' success in the United States will be offering an alternative-powertrain version, such as a plug-in electric or fuel cell, he said.
So a Mercedes competitor to the 3-series sedan and X3. But only if the exchange rate, fuel prices, and plug-in/fuel cell stars align? Please tell me where I can send my deposit check.
These are the same, lame contingencies Mercedes has been using since MBUSA dumped the original B-Class from its lineup in 2005. In fact, the "oh, maybe we'll get a US-specific redesign 2-3 years from now" line was trotted out [doing the math] 2-3 years ago [!] in 2007.
As the wild success of the Smart demonstrates, MBUSA would rather dick around for 10 years, then finally relent, and release an obsolete, mediocre oddity rather than let a real city car intrude on their suburban mall-trawling lineup.
Me, I've given up. Instead, I've started scouting for a low-km 1997 A-Class I can import myself when the DOT/EPA exemption kicks in in 2022.
Uh, no: Report: Mercedes to launch B-Class-based hatchback, CUV in U.S. [autoblog via dt reader george ]
Mercedes plans U.S. small car, SUV [autonews.com]
Previously: BCB: It's short for B-Class BS