So many graffiti coloring books, so little time to meet with Axe body spray's agency about their rad, new muralbombing campaign.
Kobie Solomon is the Detroit [Area] artist whose "My First" Graffiti Coloring Book is the latest entry in the increasingly crowded graffiti coloring book market. Solomon's style--or his Graffiti Coloring Book Collective's style, excuse me--is sort of a Corporate Baroque: each of the 26 different lesson/words is drowning in a sea of embellishment, while gangs of chatty Krylon cans spout off teaching tips, the graf equivalent of MS Word's Clippy The Menacing Paperclip.
And then there are poems, in case the GCB Collective's message isn't conveyed clearly enough with their art. And the whole thing is spiral bound, and $27, so maybe a valiant, lo-fi, low-volume indie effort that doesn't deserve being smacked down? Gotta stay positive, help a city down on its luck?
Whatever, Detroit has such a mad street art scene, there's a dedicated graffiti reporter, so I'm not too worried for them. The seemingly prequel-less Graffiti Coloring Book 2: Characters by Jacob Kimvall is set to drop in just a couple of days, and it promises a lot of figurative work by New York-based street artists.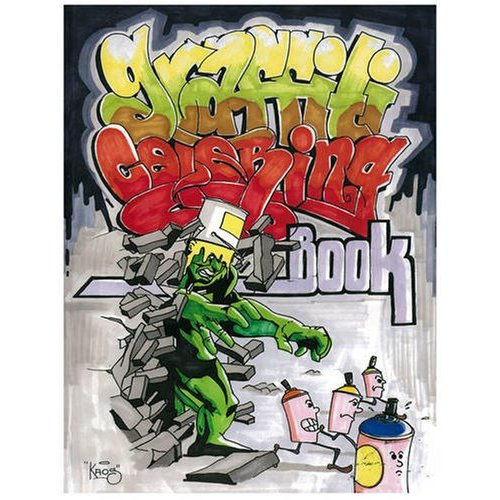 But for my graf coloring book money, the Europeans are still doing it better. The photo-based VOPstars' Street Art Colouring Book put out by London's VOP crew is high-quality and teaches a richer-looking variety of styles. And I just spotted Uzi WUFC's Graffiti Coloring Book [above], which features the work of sixty Scandinavian artists, and was put together by a member of Stockholm-based Writers United [aka WUFC], one of the most insane train crews in Europe.
Bombs, Burns, and Coloring Books [metrotimes.com via c-monster?]
See sample pages from "My First" Graffiti Coloring Book, $26.95 [amazon]
Buy Uzi WUFC's Graffiti Coloring Book, just $9.95 [amazon]
Previously: the first two Graffiti Coloring Books