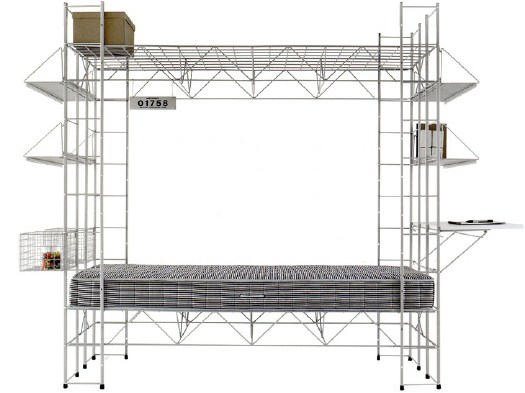 When I first posted about Abitacolo, the incredible powder-coated steel children's bed/storage/play contraption Bruno Munari designed in the early 1970s, I couldn't find it for sale anywhere. Robots, the Milanese retail fixture manufacturer Munari worked with, had non-vintage promotional photos on their website, but no retail or production info at all.
Maybe I should have checked back a month or two later? BECAUSE THAT BAD BOY IS IN PRODUCTION, FOR SALE, AND EVEN IN STOCK READY FOR DELIVERY, BABY! If you live in England, anyway. Or on the Continent.
And wow, is it ever not inexpensive! Even with a VAT refund. Part of the Abitacolo's appeal is that it totally looks like you could make one yourself out of an Ikea Tolga bed, a few hijacked shopping carts, and a spot welder. Such advanced utilitarianism does not, it turns out, come cheap.
Made In Design has the Abitacolo in stock in the UK for £1,337, or £1,138 without tax. [madeindesign.co.uk]
Kids Love Design has Abitacolo to order in France for EUR1515. [kidslovedesign.com, thanks severine]
Previously: the original Abitacolo post, including Munari's awesome marketing poem.