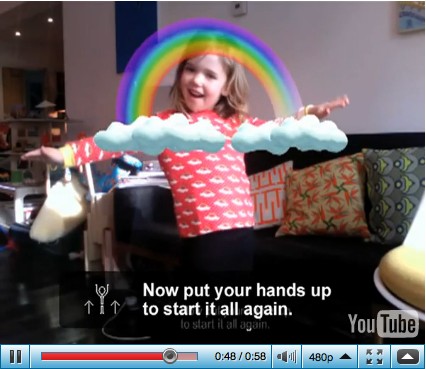 Last fall Britons were shocked by the findings of a new study that showed British children don't start sexting until 13, almost 2 years later than their US counterparts. Rather than just cry into their tea, independent children's fashion powerhouse Brights & Stripes decided to act.
Using the latest in "augmented reality" technology, they created an early education program that trains children as young as 2yo to dance and shimmy in front of a webcam. If they wear Brights & Stripes' specially designed rainbow pattern t-shirts and let B&S possibly record their actions, the company adds amusing, interactive weather animation to the video. As the kids get a little older, and a little more hooked, I expect the company will just let the clouds "slip" a bit.
And so this is how people who grow up surrounded by CCTV cameras entertain themselves.
Brights & Stripes Magic Tee Shirts [brightsandstripes.com via @anorakmagazine]