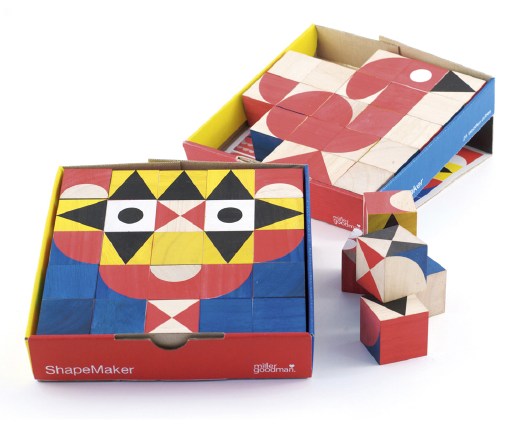 Zoe Miller and David Goodman design a fine-looking collection of kids products for the Tate's gift shop, but they pulled out all the stops for their own debut toy: ShapeMaker blocks.
These rock. The graphic simplicity, flexibility, and creative play possibilities make me wonder why people have been covering blocks with alphabets and numbers and random line drawings all these years. Suddenly makes no sense.
ShapeMakers' patterns kind of remind me of the puzzle blocks Milton Glaser designed for MoMA back in the day, only Miller Goodman put as much emphasis on fun as on aesthetic punch.
Miller Goodman ShapeMaker blocks are £29.95 directly from their Shhhop [millergoodman, shhhop]
Or get them in the US of A for $47 at Wooden Wagon [thewoodenwagon.com]