From The NY Times story on why 4-year-old Taylor Pugh's long hair means must continue to "be separated from other children" in his public preschool class:
The boy, Taylor Pugh, says he likes his hair long and curly. But on Monday night, the school board in Mesquite voted unanimously to enforce its ban on Beatles haircuts, much less anything approaching coiffures of bands like Led Zeppelin.
Hey Mesquite School Board, here's your first and second clue that your dress code is totally #($*%ing out-of-date: Beatles and Led Zeppelin.
But wait, his hair isn't even long!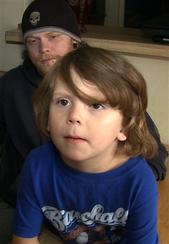 Oh wait, maybe Beatles and Zeppelin are just the NY Times' interpretation. Last month when the story broke in Texas, the Austin Statesman published the school district's actual dress code language:
According to the district dress code, boys' hair must be kept out of the eyes and cannot extend below the bottom of earlobes or over the collar of a dress shirt. Hairstyles "designed to attract attention to the individual or to disrupt the orderly conduct of the classroom or campus (are) not permitted," the policy states.
Taylor's dad, the noted Balch Springs tattoo artist Delton Pugh, says he made "a pinky promise" with his son, who goes by the name Tater Tot, not to cut their hair. And so they've been fighting Tater Tot's in-school suspension because he misses his friends, and Delton, "don't think it's right to hold a child down and force him to do something ... when it's not hurting him or affecting his education."
Amen, Delton, you let Tater Tot make his own choice, and you help him by explaining the consequences associated with his various options. Just like you accept the consequences of choosing to live in an uptight, backwards suburb run by self-righteous control freaks.
Boy, 4, Chooses Long Locks and Is Suspended From Class [nyt via southwillard]
Texas parents, school tangle over boy's long locks [statesman/ap]