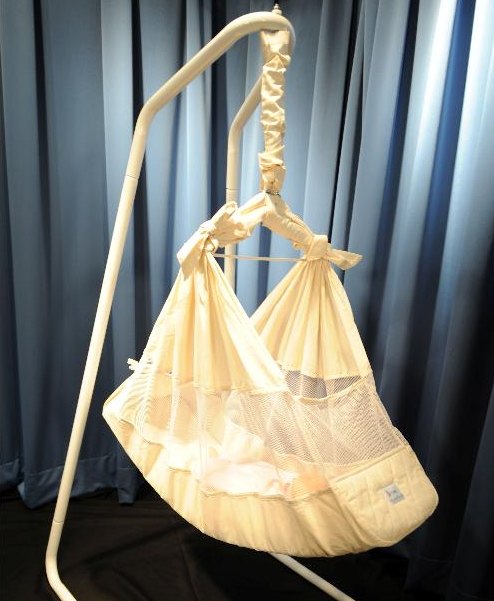 As a designer/owner/parent of an atypical crib, I have always wondered what safety tests standards or tests are used for baby hammocks. They all seem so squishy soft and slingy, not qualities I'd associate with lowered suffocation or SIDS risk.
And whaddya know, last month, the CPSC announced a recall of all Amby Baby Hammocks--around 24,000 have been sold in the US since 2003--after receiving reports of at least two infant deaths.
The CPSC warns that, "The side-to-side shifting or tilting of the hammock can cause the infant to roll and become entrapped or wedged against the hammock's fabric and/or mattress pad, resulting in a suffocation hazard."
So it's not just a mattress, but the fabric sides that pose a hazard? And don't all hammocks have fabric sides? Or does the Amby Baby have some particularly wide range of "side-to-side shifting or tilting"? Amby's offering a "free repair kit," but what could it solve that taking out the mattress doesn't? Health Canada apparently doesn't see any hope for safely repairing the hammocks; they're calling on consumers to dispose of Ambys to prevent their ever being used again.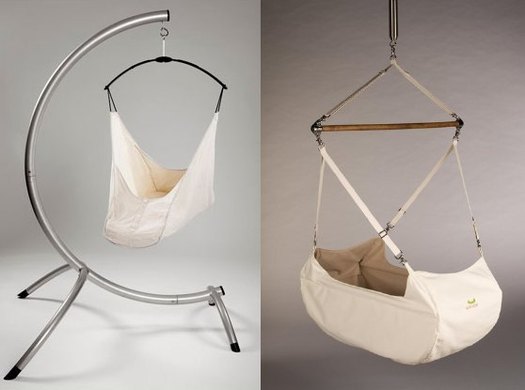 I look at something like the Hushamok [l] or the Kanoe [r], and I can see how they might have less side-to-side shifting, but it's not immediately obvious that there's none, or that the Amby has so much more.
If only there were a Juvenile Hammocks Manufacturers Association, their spokeswoman might "reach out to me" and explain how infinitely and obviously safe these are, and why any deaths are due to incorrect use?
Infant Suffocation Deaths Prompt Recall of Amby Baby Motion Beds/Hammocks [cpsc.gov]
Oregon Man Files Lawsuit Over Defective Baby Hammock [insurancejournal.com via dt reader dt]